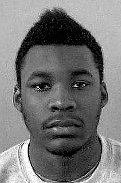 A TEENAGER has been jailed for 17 years after being convicted of manslaughter in the first acid attack killing in the U.K.
Part way through his trial in April at Reading Crown Court, Xeneral Webster, 19, pleaded guilty to causing the death of Joanne Rand.
He admitted killing the dementia nurse by splashing her from head to toe in acid during a fight with another man. She was hit with the sulfuric acid as she sat on a bench in Frogmoor, High Wycombe on June 3, 2017.
Sentencing Webster, of west London, Judge Angela Morris said Tuesday: "You and your actions bear the responsibility for her tragic demise."
After the sentence was read, he shouted at the judge from the dock and said "all of you will probably be dead by the time I am out of here, f--- you bro."
The corrosive substance was knocked from Webster's hand by another man he was in a dispute with over a bicycle. The court was told that Rand screamed in pain and ran to a nearby branch of KFC to splash water over herself.
Webster was later seen on CCTV riding away from the scene of the attack, carrying a bottle of acid.
Rand was treated and briefly released from the hospital after suffering up to 5 percent burns on her body. But she died 11 days later from multiple organ failure after contracting septicemia due to the burns.
Webster pleaded guilty to possessing an offensive weapon, namely acid. He was also sentenced for two counts of possessing an offensive weapon, namely a samurai sword and ammonia, and criminal damage relating to a separate incident to which he pleaded guilty at an earlier hearing. (SD-Agencies)