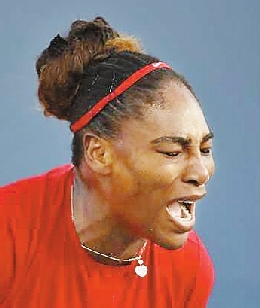 SERENA WILLIAMS walked off the court offering waves to a supportive Bay Area crowd that certainly didn't expect to see the 23-time Grand Slam champion's early exit.
In the most lopsided defeat of her career, Williams' disappointing night ended in less than an hour as she lost her opening match of the Mubadala Silicon Valley Classic on Tuesday night to Johanna Konta, 6-1, 6-0.
When the 52-minute match ended on Williams' forehand into the net, she quickly grabbed her gear and headed off the court. It was the first time she won only one game — she won her serve for the initial game Tuesday. She got two games at the 2014 WTA finals in Singapore, falling 6-0, 6-2 to Simona Halep.
"I know I can play a zillion times better so that kind of helps out, too. I have so many things on my mind I don't have time to be shocked about a loss that clearly wasn't at my best right now," Williams said. "When I was out there, was fighting. That's the only thing I can say, I wasn't just like giving it away and I was moving a lot better."
While Williams was encouraged by her court coverage, she hardly looked like herself on a cool summer evening. She double-faulted and landed drop shots in the net. Williams missed returns and sprayed her groundstrokes long and wide.
Konta, who captured her first WTA title two years ago at Stanford, got on a roll with a quick first set and didn't take a chance of letting Williams get back in it. Konta closed the first game of the second with consecutive aces under 160 kilometers per hour.
"I think she played well in the second set," Williams said. "I wasn't sharp at all in the first set and I think she got confident and clearly ran away with it."
(SD-Agencies)