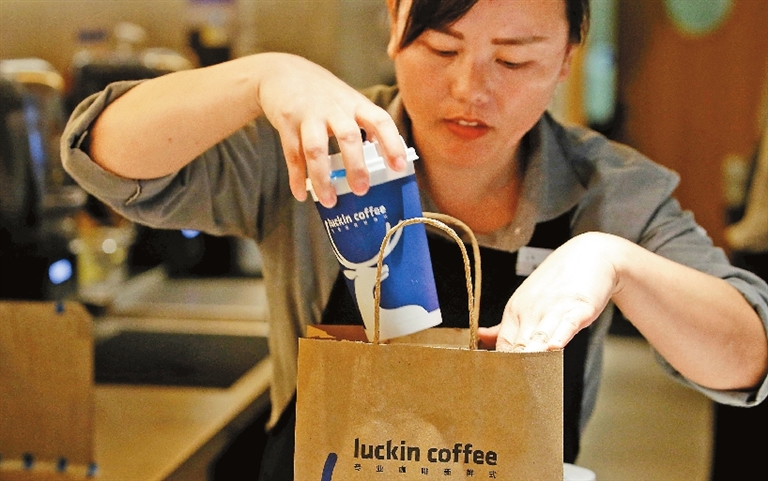 QIAN ZHIYA may be Starbucks' worst nightmare.
The 42-year-old Chinese entrepreneur said she is betting that her fledgling Luckin Coffee brand will eventually have more cafes in China than Starbucks, and she has Singapore's sovereign wealth fund and other investors bankrolling her plan.
Luckin, which only officially launched in January, has opened more than 660 outlets in 13 Chinese cities thanks to a supercharged growth plan based on cheap delivery, online ordering, big discounts and premium pay for its staff.
Its assault comes at a crucial time for Starbucks, which has 3,400 stores in China – its second-biggest market after the United States — and plans to almost double that number by 2022.
And the speed of the attack is a warning to other established consumer brands in China that they too could be vulnerable to a startup's attempt to re-invent a market, brand consultants say.
Starbucks said some new café openings were cannibalizing customer visits at nearby stores and it also blamed a drop-off in orders through delivery firms.
While it did not mention increased competition, investors and analysts said it is clear that Luckin does represent a threat.
Luckin's customers can order coffee via an app, watch a livestream of their coffee being made, and have it delivered to their door in an average of 18 minutes, the company said. A regular latte, roughly the size of a Starbucks grande, costs 24 yuan (US$3.53) plus 6 yuan for delivery (free delivery for orders of more than 35 yuan), but can be half price after promotions. A grande latte at Starbucks costs 31 yuan.
More than half of Luckin's stores are larger "relax" outlets or pickup stores with some seating. The rest are delivery kitchens.
The speed of Luckin's growth is extraordinary – it took Starbucks about 12 years to open as many stores. In many ways it echoes the way in which some major Chinese technology firms, such as ride-hailing platform Didi Chuxing, have burned through cash to grab market share and been valued highly as a result.
Qian, who was previously chief operating officer at Chinese ride-hailing firm Ucar, said Luckin's focus now is all about increasing customers.
"I don't have a timeline for profit," Qian said. "For us, what we care about now is the number of users and if they are coming back to us, whether they recognize us, whether we can take market share."
The firm raised US$200 million last month to help fund its expansion, including an undisclosed sum from Singapore government fund GIC, a funding round which Luckin said valued the firm at US$1 billion.
The use of online ordering and delivery should be enough to unnerve many established brands, said Bruno Lannes, Shanghai-based partner with consultancy Bain & Co.
"It's a big threat, that's why Western brands need to pay attention," he said.(SD-Agencies)