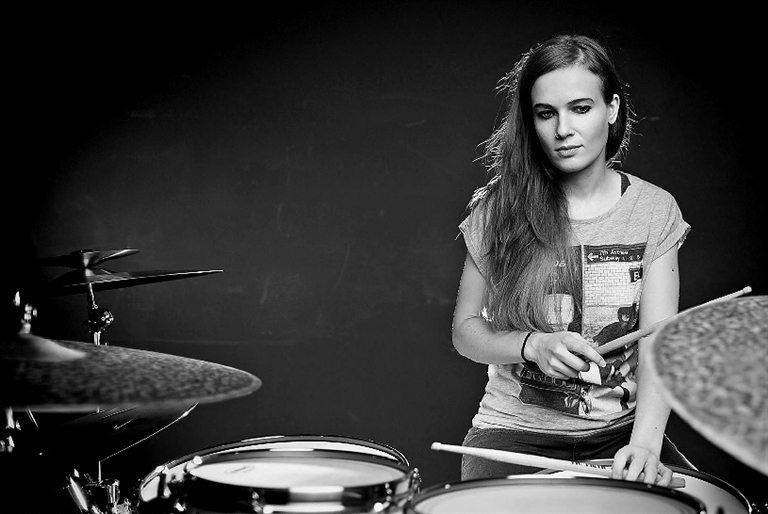 World-famous drummers will gather at the sixth Shenzhen Drummer Festival, hosted by Drum Tang, a local drumming training school, to give master classes and shows Saturday.
Highlighted drummers include Guitar Center Drum Off champion Jerome Flood, German drummer and educator Anika Nilles and Grammy nominee Aaron Spears.
Flood has worked with Musiq Soulchild, Ricardo Sanchez, Pastor Troy, Canton Jones, Travis Barker, August Alsina and Flatbush Zombies. From his beginnings coming up in the church, his jazz studies in college and his wealth of professional experience, Flood's unique background pushes the boundaries of contemporary drumming.
Nilles built up a name for herself over the last three years as a YouTube sensation, boasting more than 13 million views on her drum videos featuring original compositions, as well as being a solo artist touring through Europe, China and North America.
Her playing style is distinguished by her strong groove, her finesse in technique, and her unique sound. Her use of the drum set as an expressive instrument rather than just a rhythm keeper allows for some extravagant playing without stealing the focus away from the music.
Well known in the drumming community, Nilles was named the No. 1 Rising Star in DRUM! Magazine. In recent years, she pulled together three energetic and passionate musicians to form the band Nevell.
Spears has had the opportunity to play around the world and in some of the most popular TV shows, like "Saturday Night Live" and the 2005 Grammy Awards where he performed "Caught Up" with Usher. Spears was also nominated for a Grammy award in 2004 as a music producer, for his work on the tracks "Superstar" and "Confessions" from Usher's 2004 effort "Confessions."
In 2006, Spears won the Modern Drummer Reader's Poll as Best Up and Coming Drummer. He has also worked with Carrie Underwood, Adam Lambert and the Backstreet Boys, as well as Alicia Keys for the "American Idol" tour.
The festival will also include the 2018 International Drummer Open Contest on Aug. 5 and 6.
Aug. 4 schedule & tickets
• 10:30 a.m.-12 p.m. Jerome Flood's master class (300 yuan)
• 1:30-3 p.m. Aaron Spears' master class (300 yuan)
• 3:30-5 p.m. Anika Nilles' master class (300 yuan)
• 5:20-5:50 p.m. Show by Zhou Haoran and Drum Tang Band (100 yuan)
• 7-10 p.m. Show by Jerome Flood, Aaron Spears, Anika Nilles and Nevell (400 yuan)
Venue: A8 Live, 2/F, A8 Music Building, intersection of Binhai Boulevard and Keyuan Road, Nanshan District (南山区滨海大道与科园路交汇处A8音乐大厦二楼A8 Live)
Metro: Line 2 to Keyuan Station (科苑站), Exit A
(SD News)