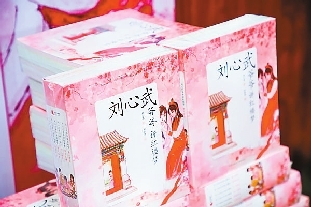 FOR Chinese natives who want to find their cultural roots, there's no better starting point than classical traditional texts.
And Liu Xinwu, 76, a writer and renowned expert on the Qing Dynasty (1644-1911) novel "A Dream of Red Mansions," says this classical piece of literature is the best gateway to traditional Chinese culture, not only because of its literary merit, but also because of the breadth of cultural aspects contained in the novel spanning poetry, culinary traditions, tea culture, costumes and architecture.
In mid-July, Liu released a six-volume guide to the historical novel for young readers, ideally aged from 5 to 9.
The novel, one of the country's four greatest classical texts, was written by Cao Xueqin (1715-1763) and is loved by millions of Chinese readers, among whom was late chairman Mao Zedong.
The late leader was known to have read through the original text many times, according to Party history researcher Chen Jin. "You can talk about it [the novel] only after reading through it at least five times," Mao had said.
Liu's publisher, Yang Zheng from Tiandi Press, says a recent reader survey found that 92 percent of Chinese parents would love to give the novel to their children, but 51 percent of them were not sure if the novel was suitable for children under 10, in terms of content and language.
As for Liu's view, he says, "It [the novel] isn't that easy to understand. It is quite sophisticated, and different readers see different things. But for me, its charm lies in its depth of questing for the ultimate meaning of life and the significance of survival which also makes it unique in a sense."
What Liu does in the 50 chapters of the six books is to avoid over-sophistication, instead of focusing on the characters, the scenes and the related stories such as the parts detailing Daiyu burying the petals, drunk Xiangyun sleeping in the flower garden and Miaoyu serving tea. "I try my best to bring the beautiful, the pleasant and the interesting from the novel to young readers," says Liu. "I'm giving the kids a glimpse of the light and joy that the book brings, which will stay with them as they grow older and [so that they] can explore the original novel themselves."
Liu's new series was inspired by the stories he told his 6-year-old granddaughter.
The author, a former editor with a literary magazine, is known for his works of fiction and lectures on China Central Television about "A Dream of Red Mansions."
In 2011, Liu raised public interest in the novel by releasing his own version of the work because the existing 80 chapters by Cao Xueqin are believed to be unfinished.
For years, Liu has been promoting the novel to adult readers, and now he is responding to demands that he take the classical novel to even younger readers.
He has begun to act. As part of this outreach, he has produced audio lectures for children and turned them into a series, besides offering cultural references in the books to festivals, customs, toys, tales and even legendary swords.
For Yang, Liu has made the classic approachable and his books are a boon to Chinese parents who are anxiously pushing to introduce the classics to their children.
But some people doubt if Liu's take is the best approach, or if people should stick to presenting the original texts of the classics to the younger generations.
Zhu Yongxin, vice president of the Chinese Society of Education, says it's common practice in many countries to provide children with access to literary classics as early as possible.
"In the United States there's a Core Knowledge curriculum With Core Classics, while in Britain, kindergarten kids are encouraged to perform Shakespeare's plays, elementary school students are recommended abridged versions of the Bard's works, and students aged 11-14 read at least one of his works," Zhu says.
"The versions or forms don't matter too much. If the classics suit the children, it's fine to read them, and better if parents can read them together with their children," adds Zhu.
As for Wang Zhigeng from the Kids Library of the National Library of China, he sees Liu's series as a way to bridge the transition from picture books to reading more texts.
Zheng Qinyu, the illustrator of the series, spent months on the pictures in the books to help young readers.
"I chose watercolors, colored pencils and fine-pointed technical drawing pens to create the works, instead of using a computer," says Zheng.
While the series may be meant for children, there are also adults who could use Liu's latest work.
Columnist and blogger Li Ling, better known as Sanchuanling, says she reads "A Dream of Red Mansions" once a year, but she knows some adult readers who need help in getting through the novel, and Liu's version could be a handy option. "It [the novel] is like crab in the autumn, and tea collected right before Tomb Sweeping Day in the spring. Reading the novel is something the Chinese appreciate very much," she says.
Liu's book will also soon be available in foreign languages, coming first to Southeast Asia, says Yang, who represents the publisher.
(China Daily)