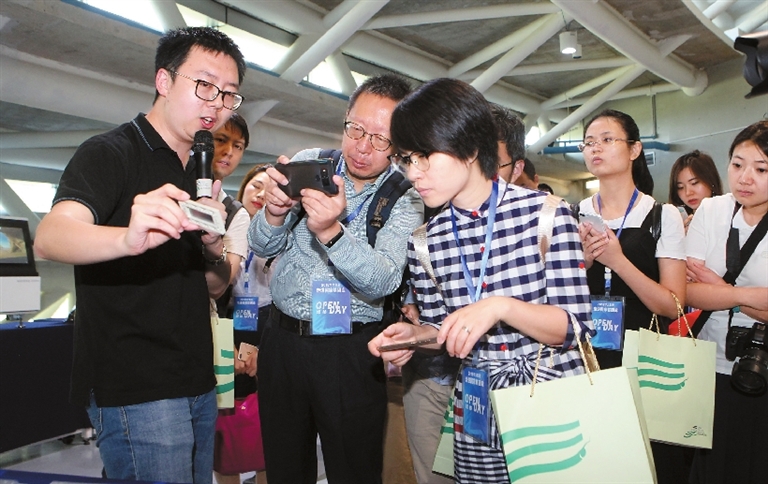 IN a media conference held Wednesday, BGI, a gene technology company, responded to recent questioning over its prenatal DNA test and an online article that claimed the heads of the company had misappropriated State assets, the Southern Metropolis Daily reported.
For its research on high-end technologies, BGI had once been regarded as one of the most promising companies in China, and its stock value had exceeded a trillion yuan (US$147 billion). However, recent questioning and speculation over the company has caused BGI's market price to plummet.
The company summoned a media conference Wednesday to provide documentary evidence clarifying the facts of the two recent incidents.
On July 13, an article published on Huxiu.com went viral, claiming that BGI's main service, prenatal DNA tests, had failed to detect DNA flaws in fetuses leading several mothers to give birth to newborns with physical disabilities.
According to the article, an expectant mother in Hunan Province underwent BGI's DNA test under her doctor's suggestion and the result showed that her fetus had a low risk of physical disabilities. The woman did not undergo amniocentesis to further detect the fetus' chance of having a disability, but eventually gave birth to a child with congenital disabilities.
Although BGI gave a prompt response after the article was widely spread on the Internet, the company's stock suffered a devastating drop three days later.
Regarding the questioning, Xu Qian, secretary of BGI's board, said that the article had misinterpreted the concept of the prenatal DNA test, as the test is only used to screen for congenital disabilities using DNA testing technology, rather than to make a precise diagnosis, like amniocentesis.
Peng Zhiyu, general manager of the company's fertility health section, said the accuracy of BGI's prenatal DNA test is above 99 percent, but compared to amniocentesis, which extracts samples directly from expectant mothers' amniotic fluid, it is only a screening technology.
Based on the Hunan mother's booklet of prenatal checks, the doctor she consulted clearly pointed out that she should get a chromosome microarray analysis (CMA) and informed her of the risks of amniocentesis.
BGI insisted that the doctor had told the woman to have further examinations, but the expectant mother did not follow the suggestions for various reasons, said Zhu Yanmei, executive vice president of BGI.
Another incident that sparked questions about BGI was an article published by Wang Deming on a renowned online forum accusing the chairman of the board, Wang Jian, and the company's former independent director, Wang Shi, of bribing principal officials in several cities and taking advantage of State assets.
In his article, Wang Deming accused BGI of denying the existence of a Nanjing-based operation center of the National Gene Bank that is operated by BGI because the operation center could hardly meet its research goal to collect gene samples and was facing doubts.
Wei Wei, BGI's assistant president, responded at the media conference by claiming that BGI had already terminated its partnership with the Nanjing operation center because the center had violated their contract.
BGI had also filed lawsuits against the Nanjing operation center in both Nanjing and Shenzhen for infringement. The Nanjing public security department had canceled the operation center's right to make company seals with words including "National Gene Bank," according to a public announcement issued by Nanjing police and provided by BGI.
Additionally, BGI attempted to refute a rumor about one of its executive members, Mei Yonghong, leaving the company to join a real estate giant. BGI said that it intends to collaborate with the real estate company, but Mei would not leave BGI.
(Zhang Qian)