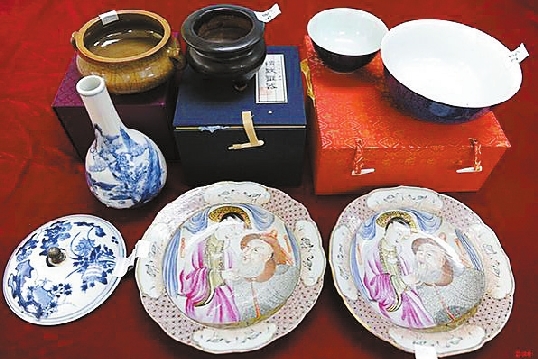 SHENZHEN Customs seized a car with both Hong Kong and Guangdong license plates for carrying eight pieces of cultural relics from the Yuan, Ming and Qing dynasties across the border, the Shenzhen Special Zone Daily reported Thursday.
In May, customs officers at Shenzhen Bay Checkpoint found a total of 12 pieces of porcelain in the trunk of a car while conducting a routine check. The car was crossing to Hong Kong.
Some pieces of the porcelain appeared quite antique, with words printed on the bottom to show they were made during the reign of Emperor Qianlong (1735-1796).
The driver explained that these pieces of porcelain were modern artworks modeled after antiques and used for collection. However, the customs officers, based on their experience, suspected that the goods were cultural relics and sent them to professional departments for further appraisal.
Seven pieces of porcelain have been confirmed as cultural relics that are banned from exiting the country, including one from the Yuan and Ming dynasties, and six from the Qing Dynasty, according to a provincial body for the identification of cultural relics.
Another piece, which dates back to the Republic of China (1912-1949), is also restricted from exiting the country. The rest are indeed modern imitations of antiques.
Cultural relics are prohibited or restricted from being transported out of the country. China has also stipulated clear penalties for smuggling, illegally selling, and scalping cultural relics.
(Zhang Yu)