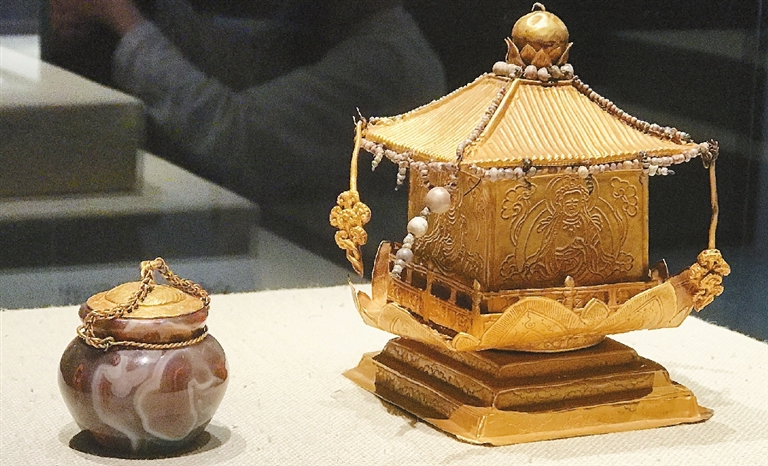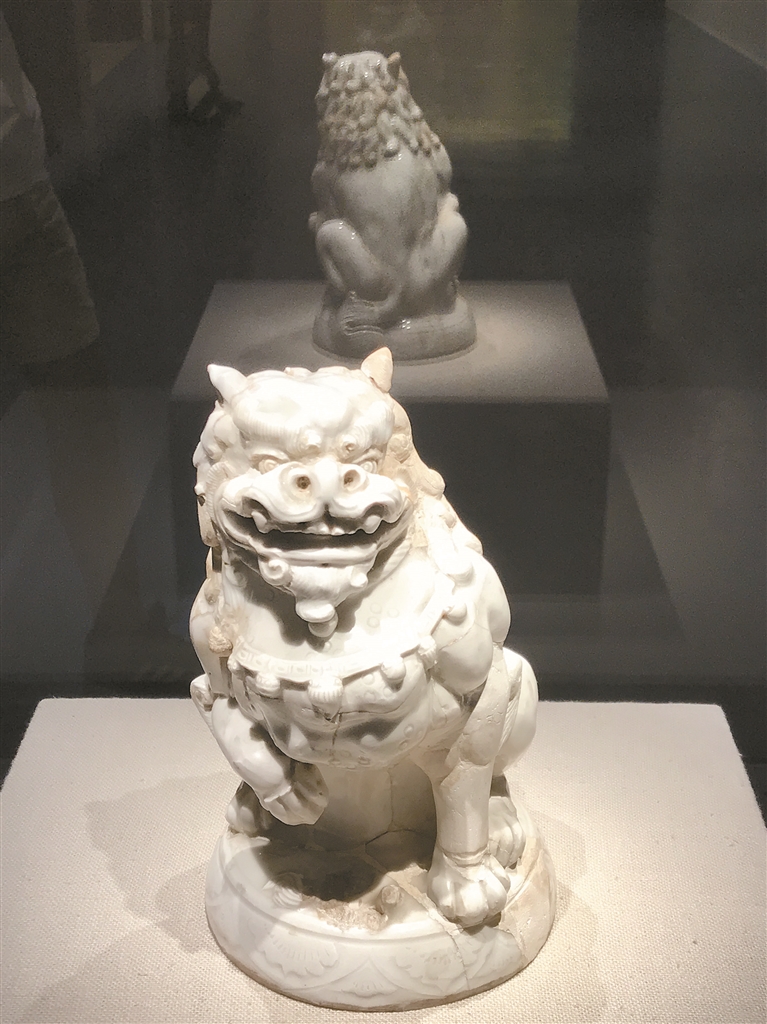 Cao Zhen
caozhen0806@126.com
More than 140 pieces of relics unearthed from the North Pagoda in Chaoyang City in northeastern Liaoning Province are on display at the "Treasure From Buddha" exhibition in Shenzhen Museum, offering a glimpse into Chaoyang's long and rich history.
On loan from the North Pagoda Museum, the exhibited items include eaves tiles, clay sculptures, porcelains, Buddha's relic boxes, silverware, agate accessories and jade ware ranging from the Former Yan (337-370) to the Liao (916-1125) dynasties.
"The discovery of the 5,000-year-old Niuheliang Hongshan Cultural Ruins in Chaoyang in 1983 has drawn attention to the city as one of the birthplaces of ancient Chinese culture," said Wang Yonghui, deputy chief of Chaoyang Bureau of Culture, Radio, Television, Press and Publication and chief of Chaoyang Cultural Relics Bureau.
Formerly called Longcheng (Dragon City), Chaoyang used to be the capital of the Former Yan, the Later Yan (384-409) and the Northern Yan (407-436). The three periods were in the Sixteen Kingdoms, a chaotic period when the political order of northern China fractured into a series of short-lived sovereign states. The period ended with the unification of northern China by the Northern Wei (386-534).
"Since the three Yan periods, Chaoyang has functioned as a center of Buddhism in Northeast China. Before the North Pagoda was built during the Northern Wei, it used to be a palace in the Yan periods. In 1988, when it was renovated, thousands of treasures, including two Shakyamuni's relics, were unearthed by archeologists. Several pieces were later listed as State-level cultural relics," said Wang.
At the Shenzhen exhibition, visitors can admire parts of the Seven-Treasure Pagoda, which is a set of containers, each enclosing or enclosed in the others. Shakyamuni's two relics were preserved in a small agate pot covered by a 11-centimeter-tall gold pagoda, and then by a silver box, and finally by a stone box. The outer one-meter-tall stone box was decorated with gold, silver, pearls, jade, coral, agate and crystal accessories.
Only the silver box, the gold pagoda, the agate pot and parts of the accessories are exhibited here. Visitors can have a close look at the exquisite carvings of the Buddha nirvana scene on the silver box and the Five Wisdom Tathagata Buddhas on the gold pagoda.
A 60-centimeter-tall hexagonal gilded gold and silver pagoda with three eaves, which was used to preserve duplicate Buddha relics, is also displayed at the exhibition.
"We hope this exhibition will present untold stories and cultural connotation behind the history of Chaoyang and the Liao Dynasty," said Guo Xuelei, deputy director of Shenzhen Museum.
Dates: Until Oct. 7
Hours: 10 a.m.-6 p.m., closed Mondays
Venue: Shenzhen Museum, Block A, Civic Center, Futian District (福田区市民中心A区深圳博物馆)
Metro: Line 2 or 4 to Civic Center Station (市民中心站), Exit B