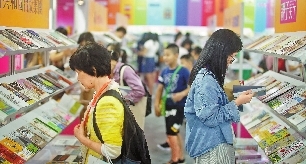 Zhang Qian
zhqcindy@163.com
RUNNING from July 19 to 22, the 28th National Book Expo at the Shenzhen Convention and Exhibition Center in Futian District, its main venue, organized more than 400 activities regarding books and reading.
More than 800 publishers from across China showcased the books they have published when the fair officially opened July 19. A total of 41 delegations from 31 provinces and regions also displayed books during the fair. Nearly 1 million books were showcased and traded at high discounts.
More than 150 well-known authors from all over the world were invited to give talks, launch new books or hold reading salons at the main venue and five subvenues across the city.
The main venue was a 50,000-square-meter exhibition area in halls 1, 2 and 5. The five subvenues, located in five Shenzhen Publishing and Circulation Group bookstores, provided additional exhibition areas totaling 50,000 square meters.
The globally well-known Israeli writer Yuval Noah Harari, author of "Sapiens: A Brief History of Humankind" and "Homo Deus: A Brief History of Tomorrow," debuted the third installment of his trilogy July 21 in Hall 5.
Apart from books and activities, exhibitors also brought high-technology devices to promote reading at the fair.
The National Book Expo is organized in a different city each year. This is Shenzhen's second time hosting the fair in 22 years, since the seventh National Book Expo was held at Shenzhen's Book City in Luohu District in 1996.