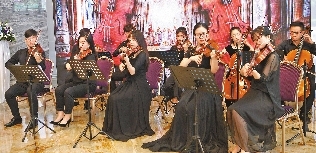 A LUNCHTIME concert, which was held on the first floor of Wongtee Plaza on July 11, marked the 100th concert that has been offered at CBD buildings in Futian District, the Shenzhen Evening News reported.
Lunchtime concerts, initiated by the Culture and Sports Bureau of Futian District in 2015, are weekly public-benefit cultural events customized for office workers. The project is organized by the Futian Public Culture and Sports Development Center and undertaken by the Piano-Themed Hall of Futian Culture Hall.
Every Wednesday during lunch hours, a concert is held at a commercial building of Futian CBD. To date, six office buildings have signed up for the lunchtime concerts which have served nearly 10,000 listeners.
Well-known string quartet "Mozart's Eine Kleine Nachtmusik" and powerful symphony "Palladio" were played at the 100th concert. Besides, Zhang Wenjing, concertmaster of the symphony orchestra of Xinghai Conservatory of Music was invited to give a violin solo "The Golden Furnace," which was full of beauty and passion and exuded the charm of traditional Chinese music. Local accordionist Li Yi and guitarist Zhang Ji performed a duet "Coffee Afternoon" and "Hotness," which pushed the concert to a climax.
"I feel super good to be able to listen to a live concert at our office building," said a lady surnamed Zhou who works nearby. Zhou said she is too busy to check the concert shows schedules and the lunchtime concerts are easy to reach and make her feel relaxed.
"Many white-collars love music but they are often busy with working and have no time to go to the concert hall. So now we bring the music to their offices, which I think is very meaningful," said a musician surnamed Zhang.
A staff with Futian District Culture and Sports Center said, "We will continue to sign contracts with more CBD buildings to offer more diversified and high-end music to white-collars."
(Yang Mei)