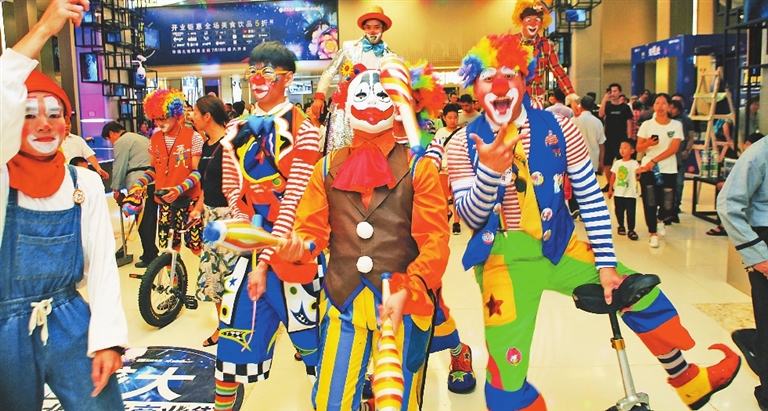 Han Ximin, Zeng Zhiwei
ximhan@126.com
SHOPPING was given a whole new meaning when a highly anticipated underground business street opened July 18 in Huaqiangbei, one of Shenzhen's busiest business precincts.
The 50,000-sqm space extending 1 kilometer under Huaqiang Road North not only offers eating, shopping and entertainment experiences, but also incorporates artistic, scientific and humanistic experiences into the business environment.
It could be a sweet experience to recall childhood memories by walking along the Candy Street, or enjoy the arts by listening to a mini-concert or watching a modern dance performance.
"The five atrium squares that are designed around five themes, including technology, leisure and water, offer multiple experiences for shoppers. It is also a bold design that the company had never done before," said Guo Kuizhang, chairman of Fashion Group, an underground commercial project operator in China. The street was jointly developed by Shenzhen Metro and the group.
A giant sandglass, filled with different patterns made by fluorescent lamps, catches the eyes of visitors when they walk into the Science Atrium Square. The patterns, dancing to the music, explain the meaning of time. In the atrium, according to Guo, new product launching ceremonies will be held, and shoppers will have opportunities to experience the latest technologies.
The Green Atrium for Leisure offers a quiet place for commuters to rest and eat food, while the waterfall in the Water Atrium offers an interactive experience allowing shoppers to touch and control the waves of water.
A resident surnamed Zhang, who came to the business street with his family, was impressed by the artistic and scientific atmosphere of the street.
"The area offers a variety of products and services. You can buy or try foods and enjoy movies, and there are places for rest and sightseeing. It is very suitable for a family on the weekend," Zhang said.
A student living nearby surnamed Liu was attracted by the exhibition on the history of Huaqiangbei.
"The business street is quite different, and I hope more high-level art exhibitions and performances will be held here at the Arts Atrium," said Liu.
The business street is connected with Metro lines 1, 2, 3 and 7, allowing citizens to shop without having to leave the subway station. It has 42 exits and entries linking to above-ground facilities.
A drink shop owner surnamed Zheng believes the advantageous location will bring more money to her business. Statistics show the visitor turnover in Huaqiangbei has reached 500,000 a day.
During the first week, businesses offered huge discounts — as much as 50 percent off — for promotional activities.
Huaqiangbei is dubbed "China's No. 1 Electronics Street." The pedestrian street was reopened in January 2017 after being closed for four years for the construction of Metro Line 7.