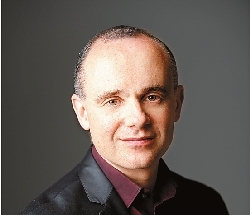 British pianist Andrew Zolinsky will play Liszt's "Villa d'Este Fontane," Debussy's "Estampes" and "Images," Takemitsu's "Les Yeux Clos," five preludes by Rachmaninoff, two preludes and one etude by Scriabin and Ginastera's "Piano Sonata."
Zolinsky won the first prize in the San Francisco International Piano Concerto Competition and has collaborated with the Royal Philharmonic Orchestra, London Concert Orchestra, Sinfonia 21 and the New London Orchestra. He has worked with conductors including Diego Masson, Martyn Brabbins, Nicholas Cleobury, Ronald Corp and Simon Joly. Zolinsky's music has been broadcast on BBC Radio 3, and he has also given solo recitals on Classic FM, German Radio, Czech Radio and two recitals of contemporary Irish music for BBC Radio Ulster.
In the field of contemporary music, Zolinsky has worked with Composers' Ensemble, Capricorn and Eos. Since 1997 he has been a member of the British group Icebreaker and with Icebreaker's cellist Audrey Riley and guitarist James Woodrow he has been a member of the multi-media project "A Change of Light" since 2001.
He has worked with composers including Simon Holt, Louis Andriessen, Poul Ruders, Michael Finnissy, Martin Butler, John Godfrey, Michael Zev Gordon and Unsuk Chin.
Time: 8 p.m., Aug. 3
Tickets: 180-1,080 yuan
Venue: Nanshan Cultural and Sports Center, 2106 Nanshan Boulevard, Nanshan District (南山区南山大道2106号南山文体中心)
Metro: Line 1 to Taoyuan Station (桃园站), Exit B(SD News)