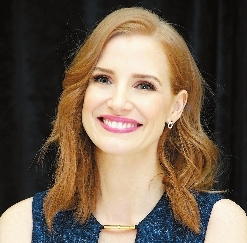 JESSICA CHASTAIN is set to star in "Eve," an action film from Voltage Pictures and Chastain's Freckle Films.
Matthew Newton has written the script and will direct. Chastain will produce with Kelly Carmichael, Nicolas Chartier and Dominic Rustam.
"Matthew is wonderfully adept at crafting complex and relatable characters. We've been fans of his work and are so thrilled to be partnering with him and Voltage on 'Eve'," Chastain and Carmichael said in a joint statement.
While plot details are being kept under wraps, the pic is being described as a character study. "I have always admired Jessica Chastain's work. So when I wrote 'Eve,' an intelligent, strong and incredibly capable character, she was my immediate first choice to bring her to life. I am humbled and thrilled to be collaborating with Jessica and Voltage on the film," Newton said.
(SD-Agencies)