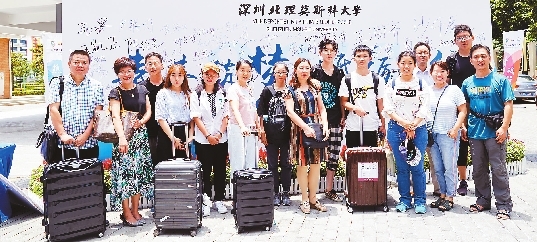 Zhang Qian
zhqcindy@163.com
WHILE most will-be college students are still enjoying their summer holiday, 130 undergraduate students enrolled at Shenzhen MSU-BIT University arrived on campus over the weekend to learn Russian before the new school year commences.
The 130 undergraduates are the university's second batch of freshmen, bringing the total number of Chinese students at the university to 243.
Shenzhen MSU-BIT University is jointly established by Shenzhen Municipal People's Government, Lomonosov Moscow State University and Beijing Institute of Technology.
The university requires all students to master Russian, besides Chinese and English. A monthlong language course has been arranged for each new student.
Most of the 130 freshmen, from eight provinces and Beijing, will major in math, materials and engineering subjects, while 30 students are going to study Russian and international trade.
According to statistics released by the university, 2,621 candidates applied to the university after gaokao and sat for the university's independent exam in June. The university said in June that it would enroll 25 international students this year.
The one-month intensive Russian class starts today. One of the freshmen, surnamed Huang, is going to study material science and engineering and he said he is fully prepared for the intensive learning over the next month.
The students will take immersive Russian classes six days a week from language teachers who are all Russian natives. When the new semester begins, the students will be taking their main courses in Russian.
Currently, students are studying on the university's transitional campus. The university will move to its permanent campus in the autumn of 2019.
The permanent campus in Longgang District has received 2.04 billion yuan (US$318 million) in investment from the city government.