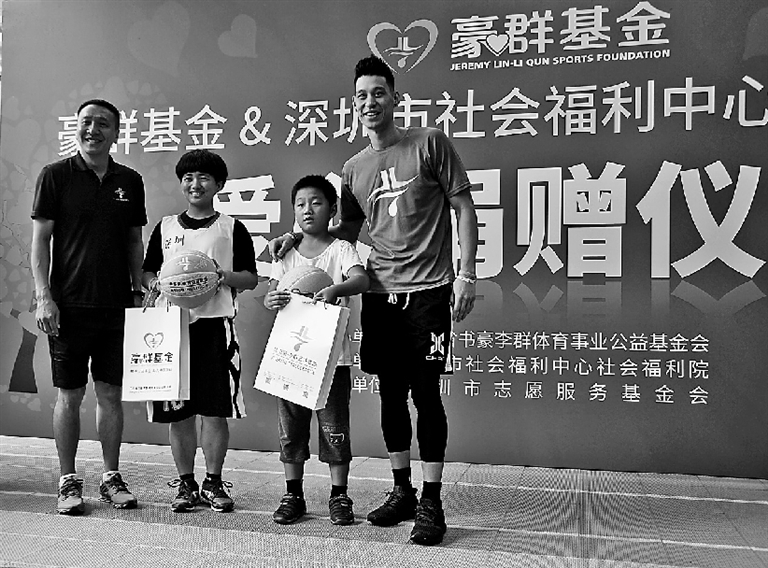 Zhang Yu
JeniZhang13@163.com
THE Shenzhen Social Welfare Center had a special guest Friday, as basketball star Jeremy Lin joined dozens of children in an interesting game of basketball at the center.
On the same day, the Jeremy Lin-Li Qun Sports Foundation joined hands with the Shenzhen Voluntary Service Foundation to host a charity donation ceremony at the center, providing a bunch of basketballs and other materials for the children at the center as well as the poverty-stricken areas of Heyuan City in Guangdong Province.
At the donation ceremony, Lin handed out 80 basketballs, 60 foldable umbrellas, 60 insulated flasks and more to the children. In return, a banner and some handicrafts made by the children were presented to the foundation.
After the ceremony, Lin and a basketball coach led the children through warm-ups and demonstrated how to dribble, carry and pass the ball with both hands. During the exercise, Lin also checked out the children's performance and gave every kid a high-five after the game.
According to Lin, he will devote more to charities that help needy children in the future. "Next, we hope to build 100 new basketball courts within a year. We may pay more attention to poor villages as they sometimes don't even have a basket," said Lin.
In 2017, Lin, along with Li Qun, a famous Chinese basketball player, donated 120,000 yuan (US$17,567) to the Shenzhen Social Welfare Center in the name of a public welfare basketball match. The donation was used for the construction of a sports venue at the center.