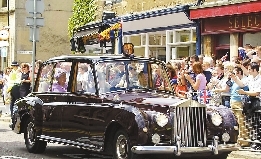 A COLLECTION of rare Rolls-Royces, including vehicles used by Queen Elizabeth II and Princess Diana, is to be auctioned off in the U.K.
The eight cars are expected to attract combined bids of up to £4.9 million (US$6.4 million) when they go under the hammer next month, according to estimates from Bonhams auction house.
Among the most anticipated lots is a 1953 Rolls-Royce Phantom IV State Landaulette, used by the Queen on state occasions and kept by the British royal family for more than 40 years. The vehicle, which has a top estimate of US$2.6 million, is the same model as the one used by Meghan, Duchess of Sussex, on her wedding day in May.
"There were only 18 of the Phantom IVs built, and they were bought by heads of state or dignitaries," said Bonhams' co-chairman, Malcolm Barber, in a phone interview. "None are exactly the same, and they're all built to special order. Even if you are a Rolls-Royce collector, you wouldn't have anything similar, because each has its own identity."
Rolls-Royce has been a carmaker of choice for British royalty since the 1950s. Another three of the eight vehicles on auction were either owned or used by members of the Windsor household, according to Bonhams.
Among them is a rare 1960 Phantom V State Limousine, which has attracted an estimate of US$1.3 million to US$2 million. A 1985 "Centenary" Silver Spur Saloon used by Princess Diana is expected to sell for US$197,000 or less.
Billed as a "Heritage Fleet" by Bonhams, the cars are being made available by Bentley, the luxury British manufacturer that split from Rolls-Royce in 1998.
Barber claimed that it is "very rare to see royal household cars come on the market." But other notable Rolls-Royces will also be available in September's auction, including a vehicle with the custom license plate "RR1" and a number of cars that were the last of their type to be built at Rolls-Royce's historic factory in Crewe, Cheshire.
The vehicles are among more than 50 being auctioned off by Bonhams at the Goodwood Revival motoring festival near Chichester in West Sussex. Other lots include a 1964 Ferrari 250 GT Lusso, which is estimated to attract bids of up US$2 million, and a Bugatti Type 30 dating back to 1922.
(SD-Agencies)