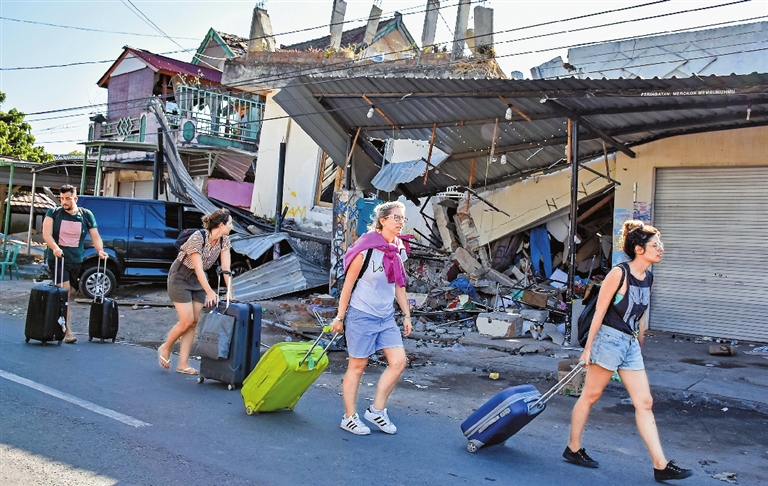 AROUND 40 Chinese tourists who had been trapped on Indonesia's Lombok and nearby islands after a powerful earthquake were expected to be evacuated yesterday, as the death toll of Sunday's 7.0-magnitude quake rose to 91, with hundreds of others injured.
There were no Chinese casualties from the quake, according to a statement released by China's Ministry of Foreign Affairs yesterday.
Some of the trapped tourists have boarded a boat from Lombok island, and all of the Chinese tourists were expected to be evacuated yesterday, it said.
Lombok island is a less popular destination among Chinese tourists in Indonesia compared to Bali island, as accommodations are less developed, according to a Global Times report yesterday.
Popular travel attractions on the island include snorkeling, surfing and traveling to the volcano, the report said.
The number of victims is expected to rise as rescue efforts continue and the majority of those killed in the quake were hit by falling debris from collapsing buildings, said Sutopo Purwo Nugroho, head of Indonesia's disaster management department.
In total, an estimated 20,000 people have been displaced by the massive earthquake, Nugroho said.
By yesterday evening, over 350 tourists had been moved so far from the three Gili Islands, an area famous for its white sand beaches and clear water. An estimated 600 tourists continued to await rescue.
The epicenter of the quake was in northern Lombok, a more residential, less developed part of the island. The majority of Lombok's tourist resorts are on the island's southern coast.
Images on social media reportedly from the worst- affected areas show catastrophic damage, with buildings and homes left completely flattened.
The devastation came exactly a week after the region was hit by a 6.4-magnitude quake that left at least 15 people dead and 162 injured.
A tsunami warning was issued in the immediate aftermath of the quake Sunday, forcing people to flee to higher ground.
The earthquake was also felt in neighboring Bali, another popular tourist spot. More than 100 aftershocks continued to rattle the region after the main quake.
Shenzhen's tourism administration is requiring local travel agencies to submit traveler information on the website http://shenzhenlvyou.mikecrm.com/7CQqT0f. The required information includes the number of tour groups and travelers now in Indonesia, as well as those leaving for Indonesia soon.
Sources from the administration showed there are 1,920 Shenzhen travelers in 80 organized groups in Indonesia, and 2,288 people in 80 groups are planning to go to Indonesia.
"We have 45 travelers in three groups near Bali and they are all safe. We will keep a close eye on the situation as it develops," said Liu Ke, supervisor of the marketing center of Shenzhen Eachtravel, in an interview yesterday. Following the earthquake, the travelers with Eachtravel returned to their hotels and will continue their itineraries later. (SD-Agencies)
(Han Ximin contributed to the story)