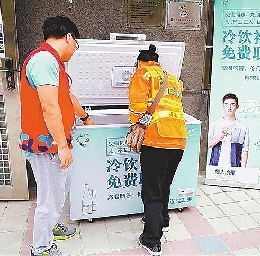 WITH high temperatures continuing to affect the city, a refrigerator was installed at the Meihe service center in Meilin, providing free beverages for those who work outdoors, the Shenzhen Special Zone Daily reported.
As a project to improve the livelihoods of residents in Meilin Subdistrict, the refrigerator with a blue poster has been packed with bottles of mineral water and energy drinks, attracting the attention of passers-by. Outdoor workers, such as sanitation workers and couriers, can consume the cold drinks for free.
A sanitation worker surnamed Xiong didn't believe that the drinks were being offered for free at first, but she happily took out a bottle of water after volunteers explained the treat to her.
After hearing the news from colleagues, a patroller identified as Mei came to confirm whether the offer was true. After being told that the campaign would last for a month, he felt grateful.
The free service has received high praise from residents. A woman surnamed Jie said she had seen such activities in other cities on the Internet and she was happy to see such a free service being offered in Shenzhen.
At first, some residents didn't believe that the freezer would provide free drinks for outdoor workers, but now more people are enjoying the service.
Staffers have to add at least 30 bottles of water to refill the refrigerator every day, according to Luo Haiyan, director of the Meihe service center.
Liu Mujun, an official from the Meilin Subdistrict Office, said that the service was inspired by a similar offer in other cities, and aimed to provide convenience to outdoor workers. She said that the service would be spread to other areas in the subdistrict.
(Zeng Zhiwei)