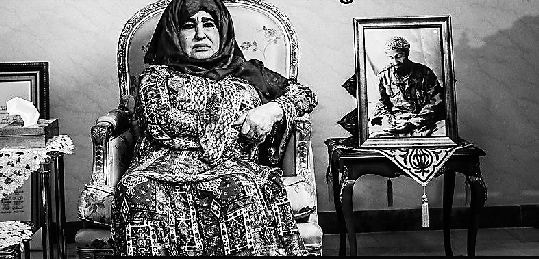 ALIA GHANEM, Osama bin Laden's mother, has said in an interview to British media that her son "became a different man" during his university days.
According to her, one of the men he met there was Abdullah Azzam, a member of the Muslim Brotherhood who was later exiled from Saudi Arabia and became Osama's spiritual adviser.
In her first interview, Ghanem, now in her mid-70s, told The Guardian: "He met some people who pretty much brainwashed him in his early 20s. You can call it a cult. They got money for their cause. I would always tell him to stay away from them, and he would never admit to me what he was doing."
But did she ever suspect that he might become a jihadist? "It never crossed my mind," she said.
And how did it feel when she realized he had actually gone down that path? "We were extremely upset. I did not want any of this to happen. Why would he throw it all away like that?" she said.
The family said they last saw Osama in Afghanistan in 1999, a year in which they visited him twice at his base just outside Kandahar.
During the interview the mother also talked about her childhood in the coastal Syrian city of Latakia, where she grew up in a family of Alawites, an offshoot of Shiite Islam. She moved to Saudi Arabia in the mid-1950s and Osama was born in Riyadh in 1957.
She divorced Osama's father three years later and married al-Attas, then an administrator in the fledgling bin Laden empire, in the early 1960s. Osama's father went on to have 54 children with at least 11 wives.
The interview also included his brothers and also other officials and experts who knew him.
The Guardian quoted experts as saying that bin Laden had "deliberately" decided that the majority of the 9/11 attackers that targeted the U.S. in 2001 — and consequently changed the whole world — to be Saudi citizens as he was "convinced that [this was] going to turn the West against his home country."
Admitting that Osama bin Laden had tainted Saudi Arabia's image in the West, Saudi officials and intellectuals said that was what the former al-Qaida chief had aimed to do.
Bin Laden mother's statement also confirmed that, by recruiting 15 Saudis in the 9/11 attacks, Bin Laden had a clear objective that was mentioned in the CIA documents and Congressional investigations, which was to create a schism between the Middle East and the West, and between Saudi Arabia and the United States.(SD-Agencies)