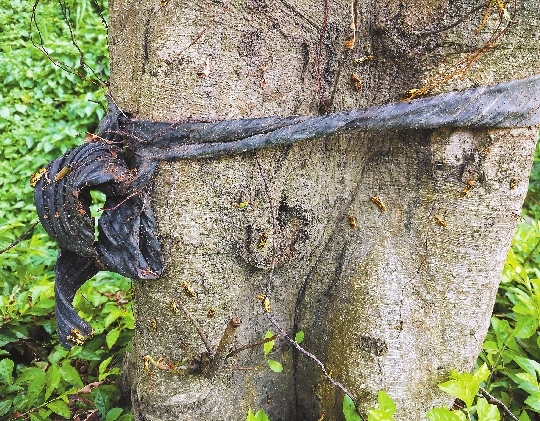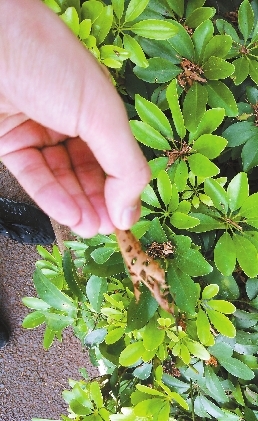 Chen Xiaochun
654789759@qq.com
PAKISTANI Ejaz Muhammad Chohan reported yesterday that the trees on one side of Zuopaotai Road near Chiwan Station Exit C in Nanshan District have been affected by pests in recent days, sending the Shenzhen Daily photos and videos of the damaged trees.
Chohan has been living in Shenzhen for almost four years. He works for a robotics company on Zuopaotai Road in Chiwan. Over the past few days, Chohan noticed something strange about the trees on the road.
"Most of the trees started shedding their leaves two or so weeks ago. It was odd that this was happening in summer but I ignored it since I don't know much about plants," said Chohan.
A few days later, Chohan noticed that there were no new leaves on the trees. "On closer inspection, I found that new leaves were actually growing but were constantly being eaten away by some pests or disease. I then checked the leaves on the ground and found that they also had not been shed normally but had been eaten away."
Now, nearly all of the trees are bare along the left side of the road, when traveling from Chiwan Station toward Chiwan Port. Chohan worried that if the pest infestation were not controlled in a timely manner, it might spread beyond Zuopaotai Road, killing trees and damaging the environment.
Chohan said his colleagues had also noticed the problem with the trees and made a report to the urban management bureau about the issue. The bureau is handling the case now.
"One of my colleagues has identified the pests as Phauda Flammans larvae," Chohan said.
Having read a piece of news announcing that Shenzhen is likely to be named a "National Forest City," Chohan hopes the problem can be solved so the environment of our beautiful Shenzhen remains intact.