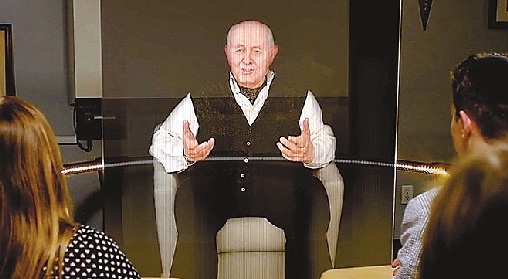 全息术使二战大屠杀幸存者"永生"
A team of researchers from the University of Southern California (USC) are working to immortalize* the stories of the Holocaust* survivors while they still can.
Using a combination of augmented reality* and virtual reality*, as well as artificial intelligence*, they've created holograms* of survivors that museum visitors can inquire and interact with.
Stanley Bernath, 92, is the latest subject of the program, called "New Dimensions in Testimony," and marks the 15th survivor researchers have interviewed so far.
Bernath sat for a 13-hour interview, during which he was asked more than 1,000 questions, ranging from those dealing with his experiences in the Holocaust to more general queries about his life.
USC's Shoah* Foundation, which is behind the project, has debuted exhibits at museums in the United States and international festivals.
In a video, a viewer is seen asking Bernath what happened to his family during the Holocaust, to which his hologram responds: "My brother and mother survived."
Holograms appear in remarkably clear and believable quality, thanks to an elaborate lighting setup used during the interview process. Subjects are placed under more than 1,000 lights in a dome and recorded by seven cameras so that every angle can be captured. Developers also used natural language processing that allows viewers to interact with the holograms conversationally.
The project is a race against time, as the next generation may not have the opportunity to hear from Holocaust survivors directly. Survivors involved in the project want to make sure their stories are preserved to prevent further atrocities* from happening.(SD-Agencies) The hologram of Stanley Bernath.