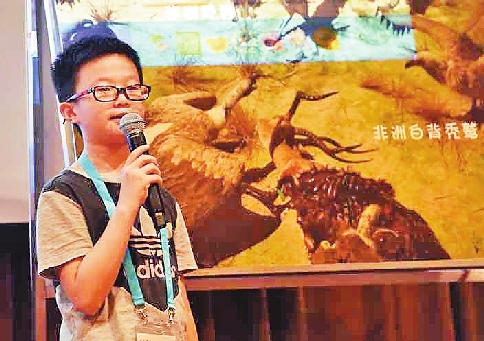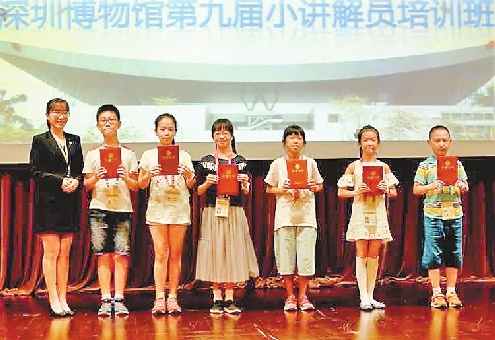 深圳博物馆录取90名学生讲解员
Cao Zhen
caozhen0806@126.com
Ninety local students have been selected by Shenzhen Museum as student tour guides after 10 days of training.
The students, aged between 9 and 15, were selected from 300 applicants and received training in Shenzhen history, wildlife, public speaking, body language, museum etiquette and language taboo, according to Wang Tong, chief of the social service department of Shenzhen Museum.
"These students were prompt and hard-working during the training. They will soon serve visitors during the summer," said Wang.
"Since childhood, I love listening to historical stories and collecting odd-shaped rocks. After I was selected as a Shenzhen Museum tour guide, I practised public speaking in the exhibition halls during my lunch break. When some visitors stopped by, listening to me, I felt very proud," said Zhang Jiayang, a student tour guide.
"Effective tour-guiding in a museum could enliven the exhibits and our job is to try to make the relics 'speak'," she added.
"Shenzhen Museum trainers were very patient to us. They thoroughly instructed us and sometimes bought snacks and drinks to treat us if we recited well. They showed love to us and we will pass on the love to visitors," said Zhang.
Since 2010, Shenzhen Museum has been training local student volunteers to give tours to the general public in an effort to attract more young visitors to the museum.
"Shenzhen Museum's effort in training student tour guides enriches the students' life experience. Guiding might be an ordinary job but the guides are glamorous," said student Zhang Xicheng's mother.