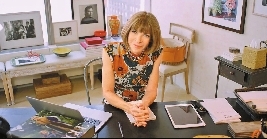 Carrie Underwood, Brad Paisley set to host 2018 CMA Awards
For the 11th year, country music superstars Brad Paisley and Carrie Underwood will reunite to host the 2018 CMA Awards.
'The Americans' wins big at TV Critics Awards
FX's "The Americans" ended its run on a high, taking home TCA Award wins in three of the four categories in which it was nominated, including program of the year.
Affleck, Damon team up for
new film
Ben Affleck and Matt Damon are partnering for a movie about how a former cop rigged the McDonald's Monopoly game to steal millions.
Anna Wintour to stay
'indefinitely' at Vogue
Anna Wintour, the influential editor of Vogue magazine, is remaining in her job "indefinitely," publisher Conde Nast said, refuting rumors that she was on her way out after 30 years.
Madonna launches fundraiser to mark 60th birthday
Madonna launched a US$60,000 fundraiser to support her work with children in Malawi, and had already raised more than US$10,000 in the first 24 hours.
Stefanie Sun gives birth to second child
It's a special birthday for Singaporean singer Stefanie Sun, who gave birth to her second child just two days after celebrating her 40th birthday.
Weinstein unveils accuser's emails
Hollywood producer Harvey Weinstein is seeking to get the criminal case against him thrown out of court. (SD-Agencies)