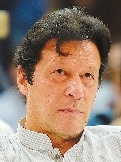 IMRAN KHAN'S party Monday officially nominated the cricket star-turned-politician to be Pakistan's next prime minister.
To assume office, Khan will face a vote in parliament – perhaps as early as Saturday – in which he will have to defeat a rival candidate fielded by the opposition.
Khan's Tehreek-e-Insaf party won the most parliament seats in last month's general elections – 115 – but fell short of a majority in the 342-seat assembly, requiring it to form a coalition. Many lawmakers who won as independents in the July 25 vote have joined his coalition.
Tehreek-e-Insaf leader Arif Alvi, a lawmaker elected from Karachi, said Khan was formally nominated at a party meeting in Islamabad on Monday. He was unanimously endorsed, said Shah Mahmood Qureshi, a former foreign minister and party deputy leader.
But Khan is likely to face tough opposition from the Pakistan Muslim League of ousted Prime Minister Nawaz Sharif and other parties, which allege vote-rigging in last month's elections. Sharif is currently appealing a 10-year prison sentence for corruption. The party is led by his brother, Shehbaz Sharif, who was also nominated for prime minister Monday.
Qureshi insisted the opposition would not be able to undermine the new government and quoted Khan as saying during Monday's meeting that all they can do is "create a rumpus."
(SD-Agencies)