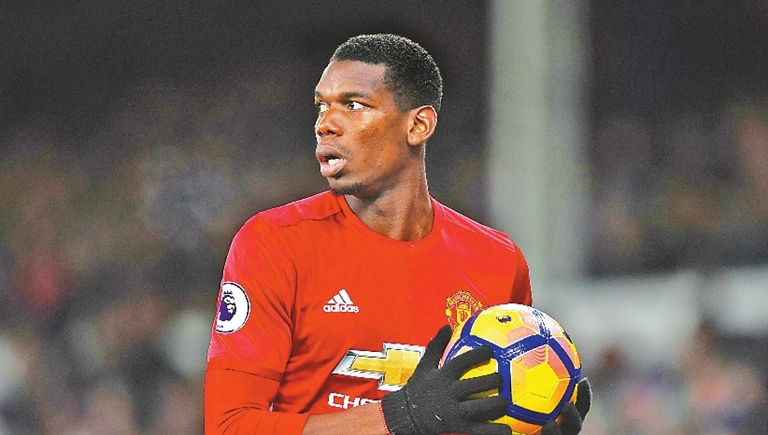 PAUL POGBA'S agent is trying to engineer a sensational deal for the Manchester United star to leave Old Trafford for Barcelona.
Mino Raiola has been in detailed discussions with the Spanish club over signing the midfielder, two years after he rejoined United from Juventus for 89 million pounds (US$115 million), the Daily Mail reported.
Pogba returned for pre-season training Monday after winning the World Cup with France, and sources close to him said he would be open to a move.
United authorities insisted Monday night that Pogba is not for sale and they are believed to have rejected an opening offer from Barcelona of 44.6 million pounds plus two players — Yerry Mina and Andre Gomes.
It seems inconceivable that United would let go of their record signing, and Pogba's camp accept it will be difficult to complete a deal before the transfer window closes.
However, the fact that Raiola is touting Pogba to Barcelona — apparently with his client's blessing — is a worrying development for United after a difficult pre-season, and comes so close to United's Premier League opener at home to Leicester on Friday.
United authorities are aware that it could be a ploy by Pogba's representative to secure him a new contract on the same terms as 500,000-pound-a-week top earner Alexis Sanchez. Raiola is known to have approached United about a raise for Pogba after Sanchez moved to Old Trafford from Arsenal in January.
But this isn't the first time the 25-year-old's future at Old Trafford has been in doubt. Raiola, who took a staggering 41-million-pound cut of Pogba's then world record fee when he returned to Old Trafford from Italy in 2016, sounded out some of Europe's top clubs in January and Pep Guardiola confirmed that the player had been offered to Manchester City.
As Pogba's relationship with Jose Mourinho grew increasingly strained last season, Sportsmail revealed in April that the United manager was prepared to sell him this summer.
The situation has not been helped by Mourinho's negative comments about Pogba's success with France at the World Cup, made on several occasions during United's recent tour of the U.S., that went down very badly with the player.
Instead of praising Pogba's performances, Mourinho urged him to "understand" why he had done so well in Russia and appeared to suggest the player lacked the same focus for his club.
There have been concerns for some time that Pogba has been distracted by his commitments off the pitch and a growing entourage.
"I don't think it's about us getting the best out of him, it's about him giving the best he has to give," said Mourinho last month.
"I think the World Cup is the perfect habitat for a player like him to give the best. Why? Because it's closed for a month, where he can only think about football.
"The players are in a closed camp, isolated from the external world, from commercial compromises, and every possible influence."
Reports that Raiola had spoken with Barcelona and was set for talks with United over Pogba's future began to circulate in Spain and Italy on Monday.
(SD-Agencies)