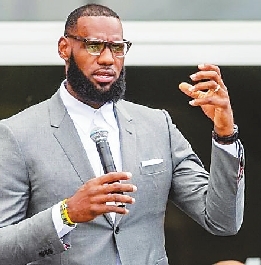 ATHLETES are some of the most influential people in the United States, whether they like it or not.
LeBron James — one of the most influential athletes of all time — seems to have fully embraced that role. James is constantly entering into new ventures outside of the NBA, finding new ways to reach people and impact the country. Just look at the I PROMISE school he opened in Akron last week for proof.
His latest project, though, seems to have found its inspiration from an unlikely source.
James will be one of the executive producers on an upcoming three-part Showtime documentary series entitled "Shut Up and Dribble," the network announced Monday.
The series title comes from a rant that Fox News commentator Laura Ingraham went on in February shortly after the Golden State Warriors declined an invitation to visit Donald Trump in the White House following their NBA Finals win. She said that James and Kevin Durant, among others, should "shut up and dribble," instead of sharing their political commentary. The clip instantly went viral, and caused many across the NBA to both speak out against Ingraham and to speak their minds outside of the sport even more.
The series will feature players in the NBA whose impact and reach has transcended the sport, and how the role of an athlete in society has changed over time. The series will premiere in October.(SD-Agencies)