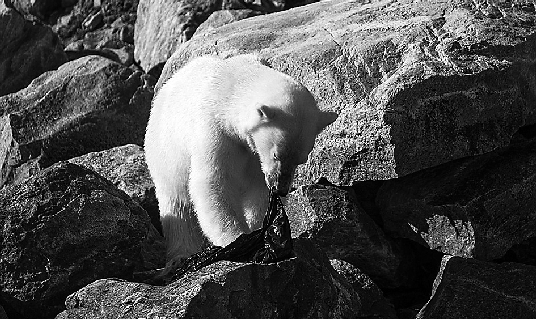 HUNGRY and alone, a polar bear tries to eat a plastic trash bag found floating in the Arctic.
Shocking images show the animal lifting the bag from the water in its mouth and tearing at it helplessly with its paws and teeth.
The photos highlight the problem of plastic waste as an estimated 9 million tons a year chokes sea life and winds up on shores around the world.
It is thought the bear was attracted by the smell of food in the rubbish bag.
Photographer Fabrice Guerin took the images while visiting the Arctic Archipelago of Svalbard in Norway.
The 50-year-old watched the polar bear hunting for food before giving up and chewing on the plastic bag that had washed up onto the rocks.
Catching this moment on camera to illustrate the huge problem with plastic in the ocean, Guerin was left speechless.
The photographer, who lives in Paris, said, "I spent four hours watching the polar bear on the rock from our boat.
"He didn't move for ages but suddenly he decided to walk as it was time for him to find food.
"With the guide, we followed him but we always kept our distance.
"When we decided to come back to our boat, we saw the polar bear was looking for something in the rocks.
"We were surprised to see this magnificent animal had a plastic bag in his mouth. Fortunately he didn't swallow it whole.
"I never thought to see some plastic in this area but I do know there is no frontier for plastic waste.
"The global production of plastic rises every year and we discover bottles and plastic bags mostly everywhere.
"Most of this waste is not biodegradable, and a lot of animals like turtles, birds and sperm whales swallow them."
(SD-Agencies)