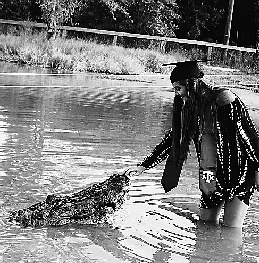 A TEXAS A&M University senior in the U.S. featured an unusual guest in her graduation photos: a 450-kilogram alligator.
Hilarious photographs show 21-year-old Makenzie Alexis Noland dressed up in her graduation garb alongside a Texas alligator named Big Tex.
When asked why she decided to include the massive critter in her grad photos, the soon-to-be alum told KTXS, "He's one of my best friends here."
Noland met Big Tex in May of last year during her internship at Gator Country, an alligator adventure park in Beaumont.
"It took him a few weeks for him to like me," she said as she described the budding friendship.
With time the two got more comfortable with each other, and eventually they formed an unusually strong bond.
"It's just like how your dog would treat you if you treat him well," Noland told The Witchita Eagle, adding that she likes to tickle his nose and give him kisses.
The friendship is particularly unlikely given that Big Tex currently holds the national record for the "largest live-captured nuisance alligator," according to the park.
The gator was caught at Trinity River National Wildlife Refuge in 2016 and was brought to Gator Country because he had become "a little too friendly."
A Facebook post from the refuge claims that Big Tex had "lost his fear of humans" because visitors were feeding him.
The reptile appears to be happy with his setup at the new park, especially in the photos with Noland.
They were taken by Noland's boss Arlie Hammond, who keeps a close eye on the pair when they interact.
Noland said she is almost as proud of the photos as she is to be graduating with a degree in wildlife ecology last week.
She said she hopes to land a job at the Dallas Zoo, but will be sure to come back to visit Big Tex.
(SD-Agencies)