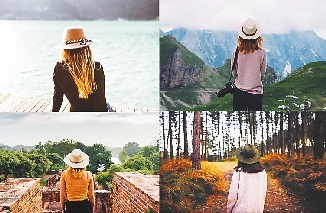 HOLD on to your hats, and get ready for an onslaught of near-identical Instagram shots. An account fast-growing in popularity on the social media platform is collating photos from travel bloggers and adventurers which bear an uncanny resemblance to one another, and the results are somewhat amusing.
Insta_repeat, counting 112,000 followers thus far, bears the slogan "Deja Vu Vibes — Wander. Roam. Replicate," and puts together collages of samey compositions we've all come to know so well: feet dangling over mountains; solo shots of women with exceptionally good hair gazing across sweeping landscapes; photos of pine trees taken from inside tents, and so it goes on.
The compilations include satirically banal captions such as "Long exposure of one person centered, alone, at night with a light pointed up" in relation to a star-gazing selection; and, of 12 similarly-themed vehicular portraits, "Standing on top of a white car."
The anonymous creator of the account, a 27-year-old Alaska-based artist, told Photoshelter, "It's this genre of adventurous and creative living, tagged with phrases like 'liveauthentic' and 'exploretocreate' that seems so ironic and thus an interesting target to me."
Of course, these photos are all arguably aesthetically pleasing and compositionally satisfying, which is why they are so often replicated, so the account owner does concede that all the photographers "deserve credit."
Want something different?
Landscape and wildlife photographer Donal Boyd based in Iceland shares about his approach and how he dodges the Instagram clone trap.
"My mentality is to not create images that people expect to see, but to create images that will surprise people. I think a lot of people on social media fall into the trap of recognizing the success of specific shots that do well and they miss the opportunities to craft something new by pushing the boundaries of their own creativity."(SD-Agencies)