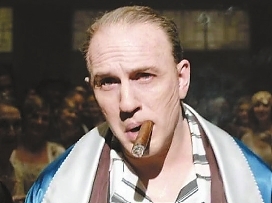 DIRECTOR Josh Trank has shared a closer look at Tom Hardy as gangster Al Capone in the upcoming biopic "Fonzo."
Hardy has also shared unofficial Instagram shots of him in the character from the film's New Orleans set.
"Fonzo" centers on a particular period in Capone's life, when at the age of 47, dementia has rotted Capone's mind following an imprisonment of nearly a decade. Past and present blend together as memories of his violent origins slip into his waking hours. Capone died in 1947 at the age of 48.
Other stars in "Fonzo" include Matt Dillon, Kyle MacLachlan and Kathrine Narducci.
"Fonzo" is Trank's first feature after the ill-fated "Fantastic Four" in 2015, which bombed at the box office and tanked with critics. Trank previously directed the hit found-footage film "Chronicle."
(SD-Agencies)