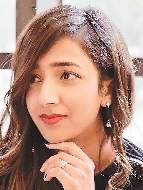 Cathy Mo
865068803@qq.com
APPLYING BB cream to her face, Kriti Gupta kept saying "Sorry" during an interview on a rainy summer morning.
The Indian girl, who plays multiple roles, from model to bar manager and English teacher, was getting ready for her next appointment of the day. "I'm going to meet my agent and act for an ad shoot," she said.
Born in Hong Kong in 1996, Gupta comes from an Indian family that has been living in Hong Kong for more than 60 years. She crossed the border to live with her parents in Shenzhen at 15 after her father's business in the city became stable as he had opened an Indian restaurant and become the Shenzhen CEO of the Indian IT giant Spice Mobile.
Gupta studied at Hong Kong University and graduated from a U.S. medical school. However, Gupta did not become a doctor, instead she chose to start her career by running a bar, possibly due to her family's genes.
She tried her luck with a mini bar beside her father's Indian restaurant, introducing traditional Indian fruit-based Sheesha (an oriental tobacco pipe with a long flexible tube connected to a container where the smoke is cooled by passing through water) smoking to the trendy youth.
She said, "I stayed in the city firstly because my parents are here. Secondly, Shenzhen is a fast-growing city with quite a variety of people from different parts of China and the rest of the world, which gives me a huge market base."
"I think I have an advantage that many other expat businesspeople don't have: my knowledge of the Chinese language. My fluent Mandarin and Cantonese have really helped me a lot in my work. It sometimes makes me feel like I'm Chinese myself," Gupta said.
Gupta said there are many similarities between the two cultures. "For example, the Indian calender is similar to the Chinese one."