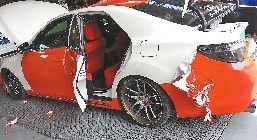 TWO drivers in their 20s who were racing against each other on the city's trunk roads in the middle of the night were recently detained by police on suspicion of dangerous driving.
A video clip from a camera installed on one of the cars recorded the whole event Aug. 5.
The two cars chased each other for four minutes, racing through traffic for about 10 kilometers along Yanhe Road, Buxin Road and Nigang Road, where the speed limit is set at 80 kilometers per hour.
Two days after the race, the driver of the Toyota sent the video to his friends, who began circulating it on WeChat. Some people recognized the BMW in the race video and inquired with the driver, Qiu, who admitted to participating in the race and praised the skills of the Toyota driver.
Police received multiple tip-offs, as the clip had been widely circulated on WeChat, and on Aug. 9 caught Qiu, born in 1996, in an apartment in Luohu, and the Toyota driver, Jian, born in 1994, in a garage in Longgang District.
Jian suspected that the police were investigating the case, so he went to the garage to refit the car to its original shape and return it to its original color.
The race started when Qiu's car passed Jian, making him unhappy. Jian wanted to compete with Qiu, so he passed him back, but Qiu passed him again and the two started a racing.
(Han Ximin)