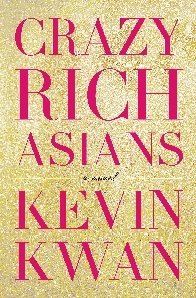 "Crazy Rich Asians" is a 2013 best seller by Kevin Kwan, followed by the sequel "China Rich Girlfriend" in 2015 and "Rich People Problems" in 2017. It has been adapted into a 2018 movie helmed by director Jon M. Chu.
The book follows the story of Singapore golden boy Nick, who brings home his naive American-born Chinese girlfriend, Rachel, to the dismay* of the whole clan; comedic culture clashes follow.
The duo arrive in Singapore and Rachel is in for a big surprise. His family is filthy rich and she had no idea. The story goes through Rachel's journey over the few weeks they are there and she is one tough cookie*. Everything and everyone there only cares about status and family names.
Rachel is an outsider so you can guess how they feel about her. Family members and friends put Rachel through the ringer and just when you think she may give up she learns a big family secret that changes her entire outlook.
Here's but a small sampling of Kwan's Asian stereotypes: Hennessy-swirling, cigar-puffing fat-cat Asian tycoons; fortune-hunting "Taiwanese tornadoes;" Hong Kong fashionista men; ABCs ("overconfident and overfamiliar" types who "grew up drinking Vitamin-D calcium-fortified American milk"); Chuppies (Chinese yuppies); Henwees (high-net worth individuals); old kitchen hands; an assortment of marriage-scheming mothers, aunts and in-laws; shopaholic* party girls; and penny-pinching* Asian immigrants.
(SD-Agencies)