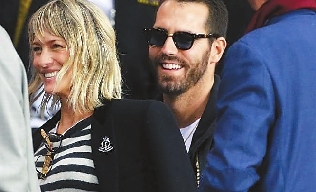 The "House of Cards" actress Robin Wright, 51, wed her French boyfriend, Clement Giraudet, in a private ceremony on Friday, People reports. "It was very intimate and low-key," a source says. "Robin wanted it to be about them, not a big production."
According to Vogue Paris, Wright wore "a bohemian* lace wedding dress perfect for dancing the night away." A fan account posted an image of Wright on Instagram that appears to be the actress in a gown fitting that description.
Many details — like where exactly the secret nuptials* took place and who made the guest list — have yet to be confirmed. But Dylan Penn, the 27-year-old daughter of Wright and Sean Penn, shared a video from La Roche-sur-le-Buis in France from a bohemian-looking wedding.
Wright and Giraudet, the head of VIP relations at Saint Laurent, were first photographed together in Paris nearly a year ago with her son, Hopper Penn, 25. The couple sparked marriage rumors a few months ago when they were spotted wearing matching gold bands on their ring fingers.
Wright was previously hitched to Dane Witherspoon for two years, but they divorced in 1988. Wright and Sean Penn, who have two children, began a tumultuous* relationship shortly after. Together since 1989 and married in 1996, the pair filed for divorce twice, with it ultimately* sticking in 2009.
Wright found love again on the 2011 film "Rampart" with her co-star Ben Foster. Foster and Wright called off their engagement only to get back together months later. They split for good in the summer of 2015.
Unlike her relationship with Foster, Wright has not publicly discussed her romance with Giraudet.
(SD-Agencies)