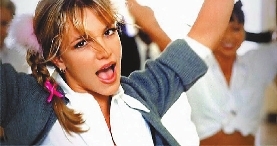 'Alpha' secures China
release date
Studio 8's long-in-the-making period adventure film "Alpha" has locked down its China release date on on August 24.
Britney Spears reflects on 'Baby One More Time' 20 years later
Pop star Britney Spears reflects on the success of the song "Baby One More Time" in an interview with The Guardian, saying she didn't know it would be a hit.
Documentary explores Walker's struggles with fame
Paramount Network has unveiled "I Am Paul Walker," a one-hour exploration into the life and career of the late "Fast and Furious" actor. The documentary featured interviews with his family and colleagues such as "Fast and the Furious" star Tyrese Gibson and director Rob Cohen.
'A Land Imagined' wins
at Locarno
Director Yeo Siew-hua took home the coveted top prize at the 71st edition of Locarno Festival, winning the Golden Leopard for his film "A Land Imagined."
Lynn Chen to direct indie
'I Will Make You Mine'
Asian-American actress Lynn Chen will make her directorial debut with the indie "I Will Make You Mine."
Angelina Jolie wants divorce
finalized by this year
Hollywood actress Angelina Jolie sought to move forward with her long and sometimes bitter divorce from fellow actor Brad Pitt, which has yet to be finalized after almost two years.
Tom Hardy is Al Capone in 'Fonzo' still
Director Josh Trank has shared a closer look at Tom Hardy as gangster Al Capone in the upcoming biopic "Fonzo."
(SD-Agencies)