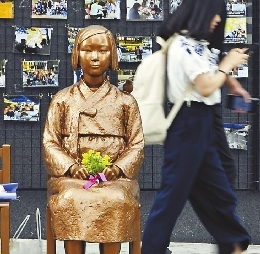 PEOPLE in South Korea unveiled a monument and staged protests yesterday to mark Japan's wartime use of "comfort women," a euphemism for girls and women forced to work in Japan's wartime brothels.
A new monument was unveiled as part of South Korea's first Memorial Day for Japanese Forces' Comfort Women Victims.
"My hope is that this issue will not lead to a diplomatic dispute between South Korea and Japan," said South Korean President Moon Jae-in in a speech marking the occasion. "I also do not think that this will be solved by a bilateral diplomatic solution."
Moon said the issue involves "the entire world" and human rights of women as a whole.
Japan has said the issue was resolved by a 2015 deal, struck by a previous, conservative South Korean administration, under which Japan apologized to the victims and provided 1 billion yen (US$9.03 million) to a fund to support them.
But Moon's administration has called for Japan to do more.
In March, Moon described Japan's wartime use of comfort women as "crimes against humanity."
Aug. 14 was chosen because on Aug. 14, 1991, South Korean comfort woman victim Kim Hak-sun became the first to give a public testimony about her experience, officials said.  (SD-Agencies)