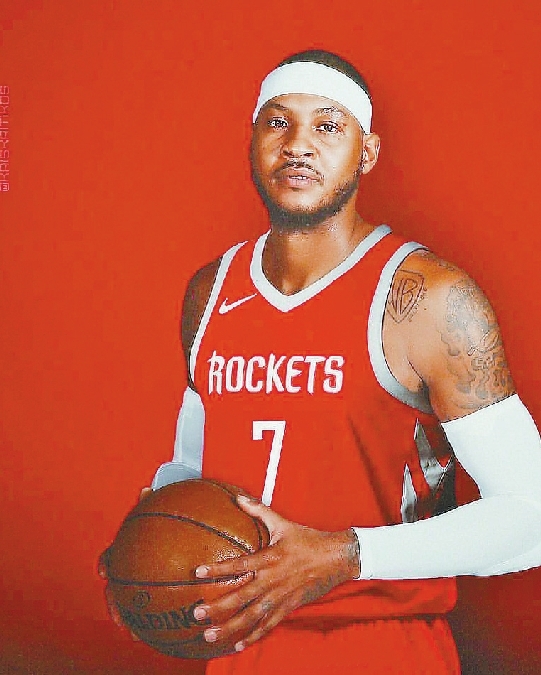 CARMELO ANTHONY signed a one-year, US$2.4 million deal with the Houston Rockets on Monday.
Anthony was traded from the Oklahoma City Thunder to the Atlanta Hawks last month before the Hawks released him.
Houston general manager Daryl Morey announced the signing and the Rockets posted a picture on social media of Anthony signing his contract.
The 34-year-old joins a team led by MVP James Harden and star point guard Chris Paul. The Rockets hope the addition of Anthony will help them contend for their first title since 1995. They lost to the Golden State Warriors in the Western Conference finals last season.
Anthony will get a fresh start in Houston after spending last season with the Thunder, with whom he averaged a career-low 16.2 points in 78 games. The third overall pick in the 2003 draft has averaged 24.1 points, 6.5 rebounds and 3 assists in a 15-year career that also included stints with the Denver Nuggets and the New York Knicks.
Anthony is a 10-time All-Star and has won three gold medals in the Olympics. He is USA Basketball's all-time leading scorer and rebounder.
Anthony has averaged more than 20 points every year of his career except last season and led the NBA in scoring in 2012-13, when he averaged 28.7 points a game.
Anthony is now reunited with Mike D'Antoni, the man whom he helped chase out of New York six years ago because of a power struggle and clash in styles that saw D'Antoni frequently running his offense through Jeremy Lin.
In 2012, Anthony gave the New York Knicks an ultimatum.
Either head coach D'Antoni was gone, or he was.
D'Antoni took the decision away from management and left his NBA head coaching job in the middle of the season. He walked away from guaranteed money and a gig in New York because of Anthony.
D'Antoni, now the head coach of the Rockets, told USA Today on Monday that this time things were different in his first public comments on Anthony since the signing.
"I think this is totally different. We've got a team that is a whole bunch of veterans that really, we've got one thing in mind, and that's to win a championship, and we have the possibility. We never had a blow-up before, so it's not he wanted to play a certain way and I kind of wanted to coach another way.
"Back then, there wasn't even analytics. I was going by my gut, and he was going by (his) gut, and it's just, you know, styles clash. And I think now, things have changed and everybody is playing the same way.
"I think it's a lot better fit and I think we have a really good chance to be really good."
Despite D'Antoni's history and reputation for free flowing ball-movement basketball, his offense in Houston has evolved into a more plodding style that ranked first in isolation frequency by a long shot last season. And it worked.
At one point, the Rockets, who won 65 games, were statistically the most efficient offense in NBA history.(SD-Agencies)