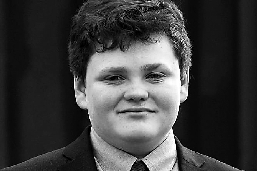 MOST 14-year-old American schoolboys might be fixated on baseball, chasing girls and dodging their homework. Not Ethan Sonneborn. He's running for governor in Vermont.
The teenager is taking advantage of a quirk in the constitution of the bucolic northeastern state that imposes no age limit on running for governor. Candidates only have to have lived in Vermont for at least four years.
Ethan faces a crowded field of adult rivals in Tuesday's Democratic gubernatorial primary.
His website proclaims him a champion for middle- and working-class families, with "the right ideas" on healthcare reform, economic development and education.
"I think I'm the candidate who best represents the change we need," he said at a televised town hall event.
But despite praise for Sonneborn's "maturity" and political awareness, his campaign has attracted calls for Vermont lawmakers to close the loophole.
"I think we should probably take a look at that to be perfectly honest," Republican Governor Phil Scott told reporters.
"I think you should at least be able to get your driver's license at the time that you become governor." (SD-Agencies)