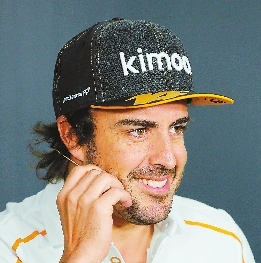 TWO-TIME champion Fernando Alonso will leave Formula One at the end of the season and potentially move to IndyCar in the United States.
McLaren Racing confirmed Tuesday the Spaniard will not return to F1 next year for an 18th season, and Alonso said F1's leadership group tried to persuade him to stay with the series. "I made this decision some months ago and it was a firm one," Alonso said in a statement. "Nevertheless, I would like to sincerely thank Chase Carey and Liberty Media for the efforts made to change my mind and everyone who has contacted me during this time."
There is speculation that McLaren will enter IndyCar with Alonso as one of its drivers. Alonso ran the Indianapolis 500 last year and was in position to win the showcase race until his engine failed.
He also ran the Rolex 24 at Daytona as a warm-up for the 24 Hours of Le Mans, in which Alonso was part of the winning team. Alonso has been pursuing the top motorsports events and has said he would like to return to Indianapolis and add a win in "The Greatest Spectacle in Racing" to his resume.
"Let's see what the future brings," Alonso said in a statement, "new exciting challenges are around the corner. I'm having one of the happiest times ever in my life but I need to go on exploring new adventures."
Alonso has 32 career F1 wins, 22 poles and 97 podiums. He has won two world titles.
IndyCar, Indianapolis Motor Speedway and NASCAR used social media accounts to urge Alonso to race next year in the U.S. following his announcement. NASCAR mocked up a formal invitation to the Daytona 500 that "requests the honor of your presence."
Alonso delivered with a farewell video to F1 and in it noted "today I have some other bigger challenges than you can offer me" as the camera showed Alonso standing in front of his Indy 500 helmet. Alonso enjoyed his one IndyCar race, which was a partnership between Andretti Autosport and McLaren. He led 27 laps and had one of the strongest cars on the track until the engine failure ended his race.
(SD-Agencies)