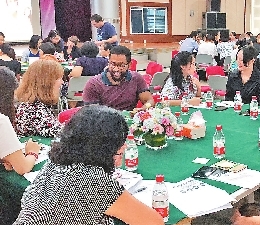 Zhang Qian
zhqcindy@163.com
ORGANIZED by 13 international volunteers, a workshop aimed to empower local women leaders was held Thursday afternoon in Futian District.
The volunteers are employees at IBM's branch companies around the world. With short lectures and interactive activities on leadership, the volunteers aimed to inspire local women. A total of 60 women from local companies and institutions joined Thursday's workshop.
"The workshop talks about women leadership and our purpose is to show how women can work on their personal branding, communication and networking," Gabriela Retamosa from IBM Uruguay told the Shenzhen Daily.
The volunteer said that women can develop skills to build their personal brands, no matter whether they work in the field or from home.
"We want to show the participants that they can decide what kind of women they want to be, like working mothers, leaders or stay-home mothers, and they can create their own values and influence how the others see them," said the Uruguayan volunteer.
While Retamosa was in charge of facilitating for all of the tables with mixes of IBM volunteers and workshop participants, another volunteer from IBM in the United States, Hobert Bush III, sat at a table to guide the activities and gave a short speech on "network building" to all of the participants.
"Building a diverse network with people of different backgrounds is essential and it applies to women leaders as well," said Bush, who leads a team with rich cultural backgrounds back at his company in the U.S.
The American volunteer said that being open, inclusive and courageous will help women become better leaders in their careers.
Bush finds many of his female colleagues or managers adopt a more people-oriented method to solve problems, which is an edge for them in leading teams and companies. "They are logical thinkers, but they are also more user-centric and tend to focus on people's needs," said Bush.
The workshop was co-organized by the Shenzhen Association of Women's Social Organizations, IBM Corporate Service Corps and PYXERA Global.
The 13 IBM volunteers came to Shenzhen in July for a monthlong volunteering project that assisted Shenzhen in becoming a child-friendly city. This batch of outstanding employees is the 41st volunteer team IBM has dispatched to help with such projects in China.