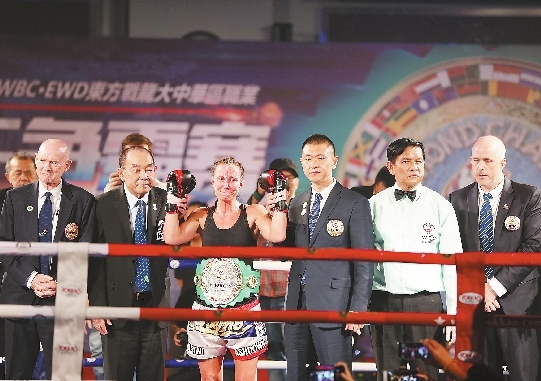 Chen Xiaochun
654789759@qq.com
AROUND 20 Muay Thai boxers from different countries and regions gathered at Southern Stadium in Hong Kong on Wednesday to compete for gold belts in the Muay Thai competition "Diamond Championship," co-organized by Shenzhen-based sporting events brand Eastern Warring Dragon (EWD) and World Boxing Council (WBC).
To pay tribute to the 40th anniversary of the reform and opening-up, a total of 2,500 tickets were given out for free to Hong Kong citizens and organizations.
A total of nine bouts were presented, the eighth of which, between Hong Kong boxer Chu King Chung and Wang Xiao from Wenzhou, Zhejiang, was the focus of that night's championship. Due to bleeding from his head, Wang had to give up after the second round and Chu won the match.
The 28-year-old Chu is 1.77 meters tall. He won the championship at the 2015 Hong Kong Muay Thai competition in the 57 kg division and fetched the gold medal in the 60 kg division of a world Thai boxing competition in Bangkok, Thailand, this year.
Wang Xiao, nicknamed "Wenzhou boxing king," has been famous since 2010. He has become a number one fighter in free combat competitions in Guangdong and Zhejiang provinces. To prepare for this championship, he flew to Thailand and practiced for four months.
Another impressive match featured Ruth Ashdown from the U.K. and Sirisopha Sirisak from Thailand. The 37-year-old Ashdown is a female Muay Thai fighter from England. She is the 2016 WBC World Champion in the 53.5 kg division and the 2013 WBC European Champion.
During the match, Ashdown's head was injured and started to bleed, but she stuck it out to the end and defeated the 22-year-old Sirisak, who is still a university student.
"The dominant women's world champion lived up to our expectations. The crowd really enjoyed it. I think it was a very good example of what Muay Thai international is all about," commented Patrick Cusick, WBC Asia's secretary general.
"The motherland for martial arts is China. China has many forms of Wushu. If China wants to concentrate on Muay Thai, it will be the champion. To be a Muay Thai champion, you have to focus on one sport. Muay Thai is the No. 1 combat sport in the world right now. It is the most famous in terms of stand-up combat sports," said Cusick.
Song Ke, founder of EWD, said the sports industry in China has experienced rapid development in recent years and many sponsors are flooding the industry with capital. "EWD pays extra attention to the China market. Bringing world-level Thai boxers to China is only the first step. We will continue to cultivate more local Chinese Muay Thai boxers," said Song.
Founded in 1963, WBC is one of four major organizations that sanction world championship boxing bouts, alongside the International Boxing Federation (IBF), World Boxing Association (WBA) and World Boxing Organization (WBO), and one of the two original sanctioning bodies (along with the WBA).