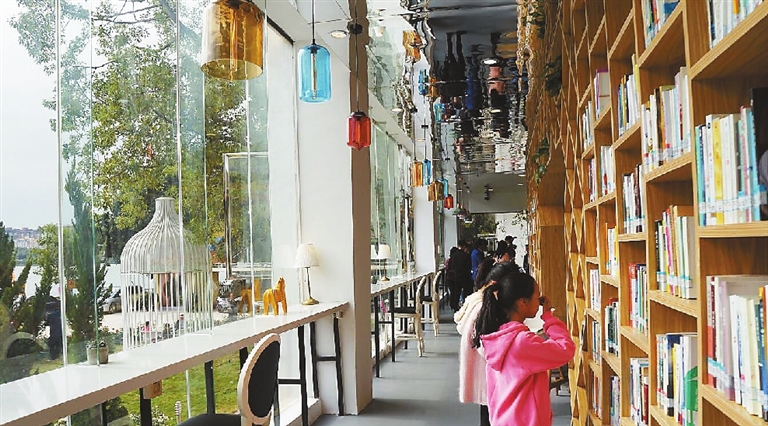 IN a lecture themed "Literature and Life" delivered by famous Chinese writer Deng Gang, more than 100 audience members listened attentively to his inspiring speech at Shenzhen Bao'an Library.
"The lecture is very interesting. It enables us to feel the pleasure of reading while absorbing knowledge," said resident Liu Hanming. Liu goes to Bao'an Library every weekend to partake in reading activities, such as the aforementioned "Literature and Life," which was one of the series of activities provided by the library.
As early as over a decade ago, the library took up lectures and forums as its core business. In 2004, Bao'an Library began hosting public lectures in tandem with strengthening its traditional literature circulation services. It was one of the earliest public libraries in Shenzhen to launch lecture activities.
The Baotu Weekly Lectures, covering such subjects as politics, economics, literature, art, family education and health, are widely welcomed by readers and has become a brand of the library. In 2017, the Baotu Weekly Lectures included a total of 134 lectures, attracting 15,000 listeners.
The library also began to open up new areas to allure young readers and boost the enthusiasm for reading in children. "Children love playing games. Making learning activities interesting is the best way to attract them," said Fu Cuiyang, director of the reading promotion department at the library.
Propelled by the concept, the library subsequently launched a number of children-oriented reading and learning activities, providing an interactive platform for family education.
To diversify the reader group, the library carried out reading promotion activities in local communities and has forged collaborations with hospitals, schools, courts and social organizations to create a series of public welfare projects for residents.
For the large number of migrant workers in the district, the library invited psychologists, professional consultants and university professors to deliver lectures on emotional adjustment, career planning and service etiquette.
In 2017, the library also hosted activities to promote science reading and created a demonstration base for popular science reading in the library. According to statistics, Bao'an Library carried out a total of 1,189 reading promotion activities last year.
(Zhang Yu)