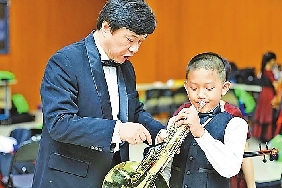 SIXTY-SEVEN teenage musicians from the Bao'an Youth Palace Orchestra performed "Peer Gynt Suite" and won the gold prize and outstanding organization award in the category of instrumental music at the 2018 China Youth Palace Cultural and Art Festival held in Nanchang from July 27 to 30.
The festival was organized by China National Youth Palace Association and the Nanchang Municipal Committee of the Communist Youth League of China.
A total of 1,300 teenagers from 34 institutes in 21 provinces took part in the festival. The Bao'an Youth Palace Orchestra is the only orchestra from Guangdong Province that participated in the art festival. The orchestra staged their performance at the closing ceremony of the festival on the evening of July 29 and obtained the gold prize.
The Bao'an Youth Palace Orchestra was formed earlier this year in March under the guidance of the Bao'an government. As a non-profit orchestra, it aims at providing an art outlet for teenagers.
The orchestra invited 12 professional music teachers specializing in different voice types, all of whom graduated from well-known domestic or overseas music and art academies. Currently, the orchestra has 70 formal members, all selected through several rounds of assessments.
To prepare for the art festival, the orchestra worked hard and practiced for four months. (Chen Xiaochun)