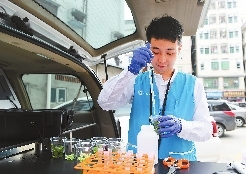 INSPECTIONS by mobile food inspection labs found no problematic foods in four subdistricts in July.
The inspection vehicles, one for each subdistrict, conducted quick tests on 5,775 samples of vegetables, fruits, edible oils, meats and fish, in Bao'an last month. This is the first time this year that no vegetables or fruits were found failing to meet standards.
Xixiang, Fuyong, Xinqiao and Yanluo subdistricts were all found clean in the inspections.
However, a total of eight samples failed inspections in Shiyan Subdistrict, 1.38 percent of the total 581 samples inspected, the highest failure rate in Bao'an in July.
A total of 43.3 kg of pork, beef, mutton, poultry and aquatic products were destroyed across the district last month after 18 samples were found containing excessive amounts of harmful chemicals.
According to the Bao'an bureau of the Shenzhen Market and Quality Inspection Commission, inspections by the mobile labs across the district last month covered 21 items including formaldehyde, nitrite, borax, chloramphenicol yellow and malachite green, which are carcinogenic and have been the top food safety concerns among residents. Eighteen out of 10,169 samples of food and edible farm produce failed the tests for containing excessive amounts of chloromycetin and malachite green.
Among the 18 positive tests, 17 concerned excessive amounts of chloromycetin, including 10 in poultry, one in meat and six in aquatic products. One aquatic product sample was found to contain malachite green, an industrial dye that can cure several diseases in fish, but is a potential carcinogen for people.
The number of tests conducted is determined by population size and the density of wet markets, supermarkets and restaurants. The most tests, 641, were conducted in Xin'an Subdistrict last month, where two samples failed to meet the national standards for food safety.
Bao'an held more than 20 events in July for Food Safety Publicity Week to help the public better understand Shenzhen's regulations on food safety and the deployment of food inspection vehicles across the district.  (SD News)