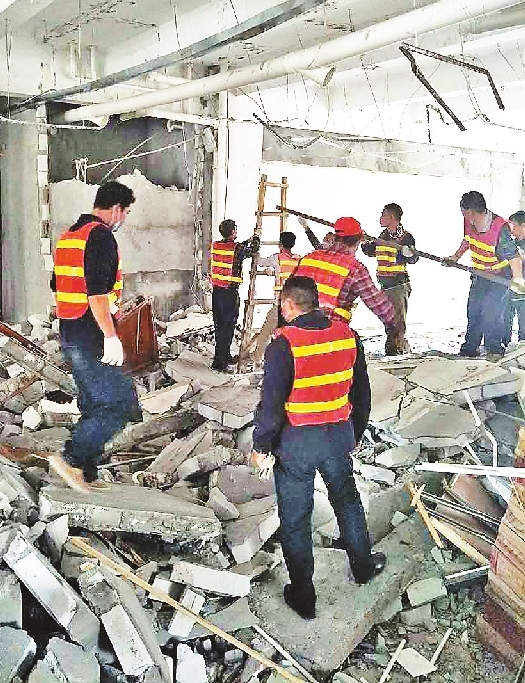 BAO'AN has taken action on monitoring unregulated enterprises and to address problems in the fields of environmental protection, fire control and work safety, paving the way for quality industrial development and the high-end manufacturing industry in the district.
A year ago, the No. 95 and No. 97 buildings in the Rentian community industrial park were two dilapidated factory buildings that housed 15 traditional resource-processing enterprises. At present, the buildings are the base of an electronics company, churning out connectors that are sold to overseas markets.
Statistics showed that industrial land area in Bao'an covers about 78.12 square kilometers. Undeveloped industrial land accounts for only about 368 hectares, about 5 percent of total industrial land.
While consuming substantial social resources, a large number of established processing enterprises are challenged by many problems such as pollution, safety risks and low output capacity. At the same time, relative to the shortage of industrial space, fast-developing high-tech enterprises fail to get sufficient industrial space for their development.
The regulation of problematic enterprises, whose operations are polluting the environment or are posing great safety threats to the public, has been launched across Bao'an since November 2017 and has achieved remarkable results so far.
As of July 31, the district has regulated a total of 1,940 enterprises that had problems in industrial layout, legal operation, environmental protection and work safety. Nineteen enterprises have been completely cleared out in 33 industrial parks, making room for 541,000 square meters of factory buildings and dormitories.
The cleanup also enabled many excellent enterprises to gain space for development. According to statistics, a total of 46 have been introduced or are being introduced into six industrial parks in the district. By the end of this year, Bao'an is expected to finish the cleanup of problematic enterprises in more than 30 industrial parks. (Zhang Yu)