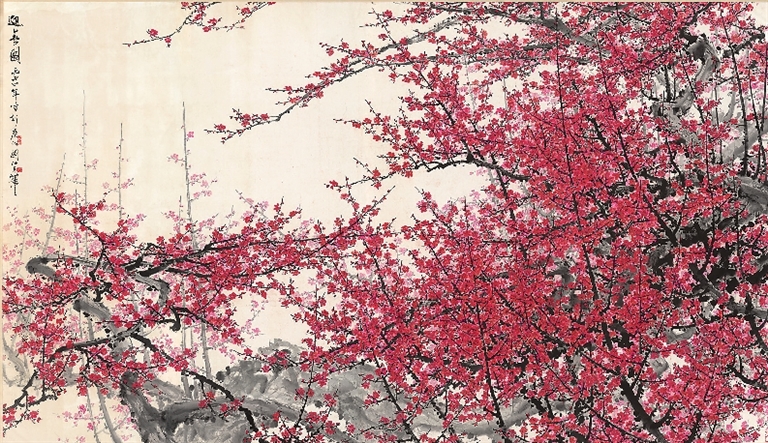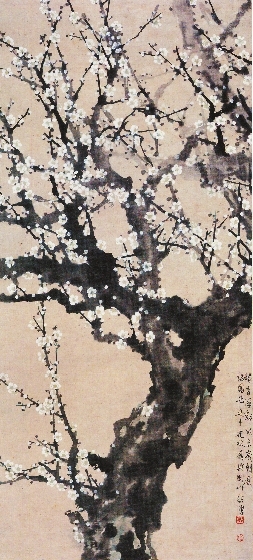 Cao Zhen
caozhen0806@126.com
One of the most beloved flowers in China, the plum blossom, has been frequently depicted in Chinese paintings and poetry for centuries. Now an exhibition of plum blossom paintings by master Guan Shanyue (1912-2000) is being held at Guan Shanyue Art Museum.
The Chinese see plum blossoms as a symbol of endurance in times of hardship and hope in the extreme weather of winter. Chairman Mao Zedong once wrote the poem "Ode to Plum Blossoms" in 1961 to praise the flower's elegance, beauty and humble spirit, encouraging Chinese people to have a similarly resilient, perseverant and optimistic spirit.
"When I was a child, my father planted several plum trees in our backyard. We admired them and recited poems on plum blossoms and later I began painting the flowers. When I lived in Chengdu, Wuhan and Kunming, I painted plum blossoms all the time," Guan wrote in an article in 1986. "If you don't read or recite ancient Chinese poems on plum blossoms, you will not be able to present the strength and beauty of plum blossoms in your paintings."
In addition to painting many large landscape paintings inspired by his travels, Guan was most famous for painting plum blossoms. Under his brush, plum blossoms are depicted as unyielding, instead of as delicate.
The exhibition also features plum blossom paintings by other masters, including Wu Changshuo (1844-1927), Gao Jianfu (1879-1951) and Xu Beihong (1895-1953) .
Dates: Until Oct. 10
Venue: Guan Shanyue Art Museum, 6026 Hongli Road, Futian District (福田区红荔路6026号关山月美术馆)
Metro: Line 3 or 4 to Children's Palace Station (少年宫站), Exit B