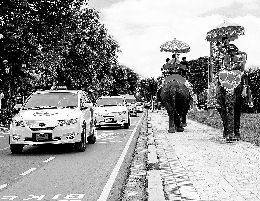 ELECTRIC carmaker BYD on Thursday inked a cooperation deal for 1,000 electric cars with Thai solar panel maker Rizen Energy, which is the Shenzhen company's biggest overseas deal.
On the same day, BYD delivered 101 E6 vehicles to Bangkok.
The electric cars delivered Thursday will mostly be used as VIP taxis and for the ride-hailing industry, the Shenzhen Economic Daily reported. However, the report did not elaborate on the deal for the 1,000 cars, which are also the E6 model.
The delivery of 101 cars makes BYD the biggest electric vehicle producer in terms of the number of cars on Thai roads, with a 50 percent market share. The nation has been slow to adopt electric cars and only has around 85,000 hybrids and plug-in hybrids in operation, according to data from Consultancy.asia.
BYD sets itself apart from the crowd by independently researching and developing batteries, which are the most important technology in new-energy vehicles, Rizen's managing director Apichat Leenutaphong said, adding that its Chinese partner has tens of thousands of patents for power cells.
BYD made its Thailand debut in December 2012, when it became the go-to car for the Southeast Asian nation's largest power company the Metropolitan Electricity Authority. In 2015, it sold K9 electric buses and E6 cars to tech and commerce giant Loxley Group as the country sought to make public transport greener.  (SD-Agencies)