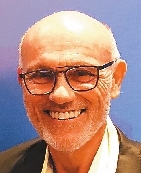 Zhang Qian
zhqcindy@163.com
THE most vital role of vocational education is to cultivate students' competence in applying techniques to solve problems in real life, according to Joachim Dell, principal of Berufs Bildende Schule Westerburg, a vocational training institute in Germany.
Dell talked with the Shenzhen Daily yesterday after attending a panel discussion at the fourth International Summit of China Vocational Education 2018.
The panel discussion welcomed several German, Dutch and Japanese experts to share their experiences with vocational education in their own countries or enterprises.
A representative of the German vocational education school, Dell said, "Vocational education schools in China should reform their teaching methodologies and learning material to motivate students to discover problems actively and solve the problems themselves under teachers' facilitation."
He said that most enterprises value talents who can solve problems independently and vocational educators must cultivate the application of techniques to real challenges, rather than just passing on theories and knowledge.
Another suggestion he gave for Chinese vocational education institutions is to form closer ties with companies, because students must have opportunities to understand the real world of work. This is also a fundamental requirement for schools to become qualified vocational education institutions.
"The dual education system in Germany requires close connections between educators and enterprises," he said.
Over 100 experts on vocational education from China and other countries attended the annual summit over the weekend.