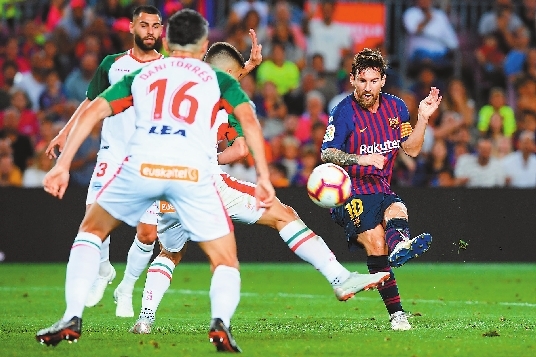 BARCELONA scored its 6,000th goal in the Spanish league after another ingenious strike by Lionel Messi got its title defense off to a winning start.
Messi cleverly sent his free kick underneath Alaves' wall to open the scoring in the 64th minute of Barcelona's 3-0 win at Camp Nou Stadium on Saturday. He also closed the scoring in injury time after substitute Philippe Coutinho added to the lead in the 83rd.
Messi's low free kick fooled Alaves' players, who jumped to intercept an expected high shot. Goalkeeper Fernando Pacheco couldn't get to the ball in time after it suddenly appeared underneath the barrier.
"Messi never fails to surprise you," Barcelona coach Ernesto Valverde said.
Messi, the league's top scorer last season, had struck the crossbar with a free kick — this time over the wall — in the first half. He also hit the post from inside the area a few minutes after his opening goal.
Messi also scored Barcelona's 5,000th league goal back in 2009, and the Argentine provided 338 of the goals taking the total from 5,000 to 6,000.
Barcelona's first-ever league goal was scored by Manuel Parera against Racing Santander on Feb. 12, 1929.
Barcelona opened its league campaign with a win for the 10th straight season.
(SD-Agencies)