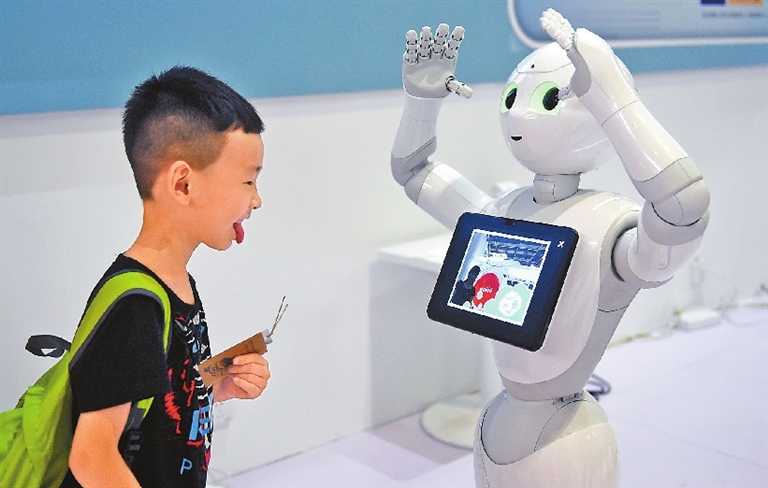 CHINA'S robot industry has been growing at a pace of nearly 30 percent annually for the past five years, said Miao Wei, minister of China's Ministry of Industry and Information Technology at the World Robot Conference 2018, held in Beijing on Aug. 15, according to Chinanews.com.
China's robot industry saw revenue of almost US$7 billion in 2017, with an industrial robot output of over 130,000 units, said Miao, adding that the country has witnessed encouraging progress in aspects including core technology research and development, construction of industrial chain and application field expansion.
According to the International Federation of Robotics (IFR), the global robot industry exceeded US$25 billion in revenue last year and is expected to reach US$30 billion in 2018.
With the robot industry playing a crucial role in the latest technological revolution and industrial transformation, China is paying close attention to the development of the industry, regarding technological progress and industrial development as essential to the strategic deployment of building a manufacturing power, according to Miao.
Miao pointed out that China's robot industry still faces many challenges, saying that China will push the industry forward by further deepening supply-side structural reform, enhancing innovation capabilities and strengthening talent cultivation.
China will also adopt the concept of open development, and carry out extensive and in-depth cooperation with organizations around the world in areas such as policy formulation, technology research, product development, market promotion and training, said Miao.
"China welcomes companies from all over the world to share opportunities and shoulder the burden of development with us," Miao said, calling on the world to work together to realize the high quality and sustainable development of the robot industry to contribute to the global economy and the progress of human civilization.
(SD-Agencies)